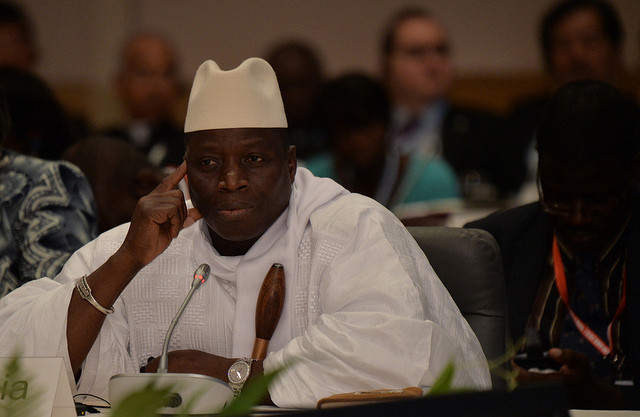 (Reuters) – Gambia has taken steps to improve its poor human-rights record after the European Union suspended 150 million euros in development aid this year, activists said on Tuesday, urging tougher action by the international community. 
 Gambia received 75 million euros of aid over the past six years from the European Development Fund, but in the spring northern European member states blocked disbursement of further aid, citing grave human rights violations. [ID:nL5N0KV2HQ]. Gambia President Yahya Jammeh has drawn international condemnation by subjecting political opponents to torture, forcing them to confess to sedition on television and executing prisoners in 2012. At the U.N. General Assembly in September, he stirred outrage by attacking gay rights as a threat to humanity.
However, in the past six months, Gambia has acceded to the U.N. statelessness conventions and invited U.N. special rapporteurs for extrajudicial executions and torture to visit the West African country, in an apparent shift in strategy.
"Jammeh is trying to placate the EU by keeping a low profile," said Amadou Janneh from the Coalition for Change Gambia. "Once he gets the funding, he'll go back to his old ways." Janneh said the president had not made any significant progress in key areas like torture, executions, the death penalty and freedom of expression.
 He called on the European Union to impose targeted sanctions such as travels bans and asset freezes. "Only then will we begin to see significant changes," he said.  A spokesman for Jammeh was not immediately available. The president seized power 20 years ago in a coup and has been elected four times since, albeit in elections criticised by international observers.
In a report on Tuesday, Amnesty International and human rights groups also urged action by the international community to end two decades of repression in Gambia, home to 1.8 million people. Francois Patuel, Amnesty International's spokesperson on Gambia, said things may have improved slightly before the four-year U.N. review on human rights later this year, but he warned that the changes could be easily reversed.
 "Gambia has used a number of laws voted into legislation recently, which restrict the right to freedom of expression. These involve hefty fines, harsher prison terms for very vague charges, like publishing false information, illegal broadcasting or insulting the president," said Patuel. In a speech on Tuesday to mark his 20th anniversary in power, Jammeh eschewed his frequent attacks on former colonial powers for a focus on what he said was the rapid economic development.
Gambia's $1 billion economic output grew by just over 6 percent last year, according to the International Monetary Fund. "With Allah the almighty on our side, and all of us working together, economic superpower status will be achieved by 2024," Jammeh said.
Written by Misha Hussain