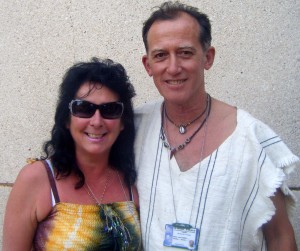 (JollofNews) – Ex- Barclays Premiership and English national team footballers and celebrities will next February play an international art-football match with ex-footballers of the Gambian national team and artistes at the Independence Stadium in Bakau.
The football match which is jointly organised by Karmic Angels, a charity registered in the Gambia since 2008 and the UK 3 Lions, a UK based charitable organisation is part of events to mark the Gambia's 50th Independence Anniversary from the UK.
It is aimed at building the UK and Gambian relations in sport, art, education, business and tourism and also to raise more awareness and funds for Karmic Angels International charitable projects. 
According to UK philanthropists, Stephanie and Alan Turner, who are also the founding director and chairman of Karmic Angels, the football match on Independence Day will attract thousands of Gambian and European football fans. This will be preceded on 17th February by an International music concert with UK, US and Gambian musicians and artistes (Hip Hop and Rap and more). Jaliba Kuyateh is performing alongside many other top Gambian artistes.
"This is going to be a great celebration and we want thousands of Gambians to participate. Obviously there are many things to collaborate, but with the help of the National Sports Council, the Gambia Football Association, the ministries of Tourism, Sports and Education and of course the President of the Gambia, we will make this an event never to be forgotten," said Alan Turner.
"UK 3 Lions will be bringing celebrities, artistes and footballers who played for Barclays Premiership clubs like, Liverpool, Chelsea, Arsenal, Tottenham and Manchester United who will as part of the tour visit  Gambian schools, colleges, training institutes and orphanages to give mini sports fitness sessions, motivational speeches, mini music taster sessions run by the artists." 

"We have documentary crews from Satya Media Group from Miami, USA, together with our own UK media team. We also have the services of two Gambian video professionals and have also invited GRTS to be at all occasions together with the press. This will have the benefit of having a documentary across the US and UK as well as Gambia." said Stephanie Turner.
Stephanie and Alan Turner expressed hopes to make the event an annual one to provide more support for the people of the Gambia and towards their projects for help in education, health, agriculture and sport.
Having gained the interest of a number of companies in the Gambia and UK, Stephanie and Alan Turner said they are still looking for more sponsors and Gambia organisations that would like to be part of the event can either log on to their website www.karmicangels.org.uk or contact their Gambian offices on 6310379/7926456, 7431185/3931185 or email karmicangels@hotmail.com.
Since it started operations in the Gambia, Karmic Angels have built three nursery schools, renovated another three classroom block, donated educational and health materials worth millions of Dalasis to schools, hospitals and clinics. They have also donated agricultural items to help the women in the crop fields on the North Bank.
Written by JollofNews