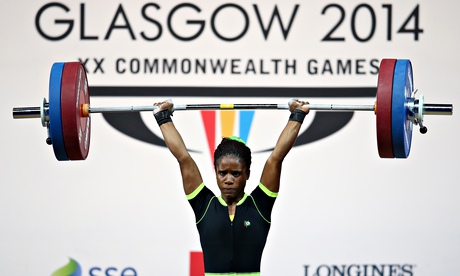 (JollofNews) – The Nigeria teenager Chika Amalaha has been stripped of her Commonwealth Games weightlifting gold medal after failing a doping test.
The 16-year-old, who won the women's 53kg competition, provided positive "A" and "B" samples that contained prohibited diuretics and masking agents.
"The Commonwealth Games Federation has determined that Nigerian weightlifter, Chika Amalaha, has committed an anti-doping rule violation and has fully suspended her from the Commonwealth Games in Glasgow," the CGF said in a statement.
"As a result, Amalaha has been disqualified from her event at the Games, with her result in the competition nullified."
Dika Toua from Papua New Guinea has been awarded the gold medal with the India duo Santoshi Matsa and Swati Singh claiming silver and bronze.
Amalaha was Nigeria's first gold medal winner in Glasgow, equalling the Games snatch record of 82kg with her first attempt before lifting 85kg on her third.
Her combined total of 196kg was also a Games record and, according to the International Weightlifting Federation, she was the youngest woman to win a weightlifting title in Games history.