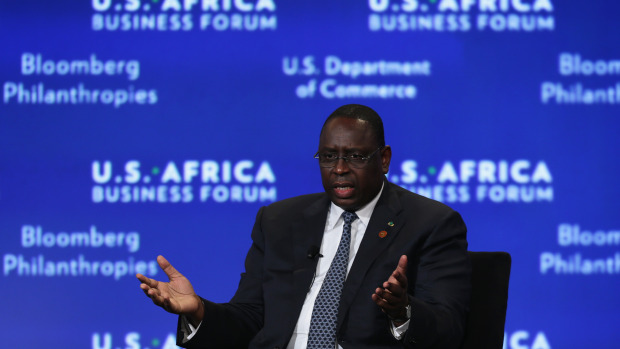 (JollofNews) – The president of Senegal is warning that the Ebola outbreak in West Africa is a "threat against humanity."
Speaking during a panel at the U.S.-Africa Summit Tuesday, President Macky Sall stated this his nation is "in the eye of the cyclone" with his neighboring countries dealing with the outbreak.
"I will tell the international community that Ebola is a devastating virus. It is not an African disease," Sall said on the panel, according to Breitbart News. "You have to see this virus as a threat against humanity. It is a threat against humanity because with intercontinental flights, all you need is a flight to the U.S. or Europe so that you have a world crisis."
Sall's comments came as Nigerian health authorities acknowledged Tuesday that they did not immediately quarantine a sick airline passenger who later died of Ebola, announcing that eight health workers who had direct contact with him were now in isolation with symptoms of the disease.
Ebola, which can cause victims to bleed from the eyes and mouths before a grisly death, has killed nearly 900 people across four countries in West Africa.
The outbreak, which emerged in March, spread to Nigeria in late July when Patrick Sawyer, a 40-year-old American of Liberian descent, flew from Liberia's capital to the megacity of Lagos. The announcement that Sawyer was not immediately quarantined underscores concerns that West Africa is ill-equipped to contain such a disease.
By contrast, two American aid workers who were infected with Ebola in Liberia received an experimental drug and were flown in a chartered jet to Atlanta, where they are being treated in a hospital isolation unit. Ebola concerns in the U.S. have led some worried people to hospital emergency rooms, and prompted Ebola testing of at least six patients, according to the U.S. Centers for Disease Control and Prevention. The tests that have completed have all been negative, the federal agency said Tuesday.
Experts say people infected with Ebola can spread the disease only through their bodily fluids and after they show symptoms. Since the incubation period can last up to three weeks, some of the Nigerians who treated Sawyer are only now showing signs of illness that can mimic many common tropical illnesses — fever, muscle aches and vomiting.
Initially authorities told reporters that the risk of any exposure to others was minimal because Sawyer was whisked into isolation after arriving at the airport with symptoms of Ebola.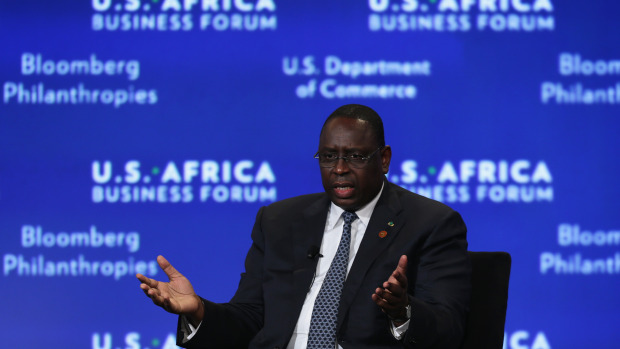 But Lagos state health commissioner Jide Idris said Tuesday that the nature of his disease "was not known" the first day, and only after further investigation did they suspect Ebola. Sawyer's sister had died in Liberia from the disease, which has no proven cure or treatment.
"They went back to the history and they were like 'Oh, this is Liberia,' and that's why he was put into isolation," he told reporters. "So even in that window period it was possible that some of these people got infected."
A doctor who cared for Sawyer has tested positive for the disease, and seven other health workers are now showing symptoms so have been placed in isolation. They are among 14 people who had "serious direct contact" with Sawyer, most of them at the hospital, Idris said. Authorities say they are also following the conditions of 56 other people who had "primary contact" with Sawyer — presumably less at risk than those in the first group.
Ben Neuman, a virologist and Ebola expert at Britain's University of Reading, said doctors during an outbreak save lives "by responding bravely and quickly when someone is sick." That involves a measure of risk, as is seen now by the exposure in Nigeria.
"The thing to watch going forward is how this changes infection control practices in Nigeria and around the world if a situation like this occurs again," he said.
The official death toll for the worst-ever outbreak of Ebola now stands at 887, according to the World Health Organization. All but Sawyer have died in Guinea, Liberia and Sierra Leone, where government officials said hundreds of troops were being deployed across the country to enforce quarantines.
Three of six missionaries in isolation in a Liberian hospital have tested positive for the virus, including Spanish priest Miguel Pajares, according to Spain's San Juan de Dios hospital order, a Catholic humanitarian group that runs hospitals around the world.
Health officials in Nigeria, Africa's most populous nation, worked to prevent the virus from spreading in Lagos, where millions of people live in densely crowded conditions. The Lagos state health commissioner acknowledged that state health authorities need volunteers to help track down the people who may have come into contact with the eight suspected cases in quarantine.
"You may have two family contacts, you may have many family contacts," he said. "You need people who will go out and chase all these people."
Source: washington.cbslocal.com