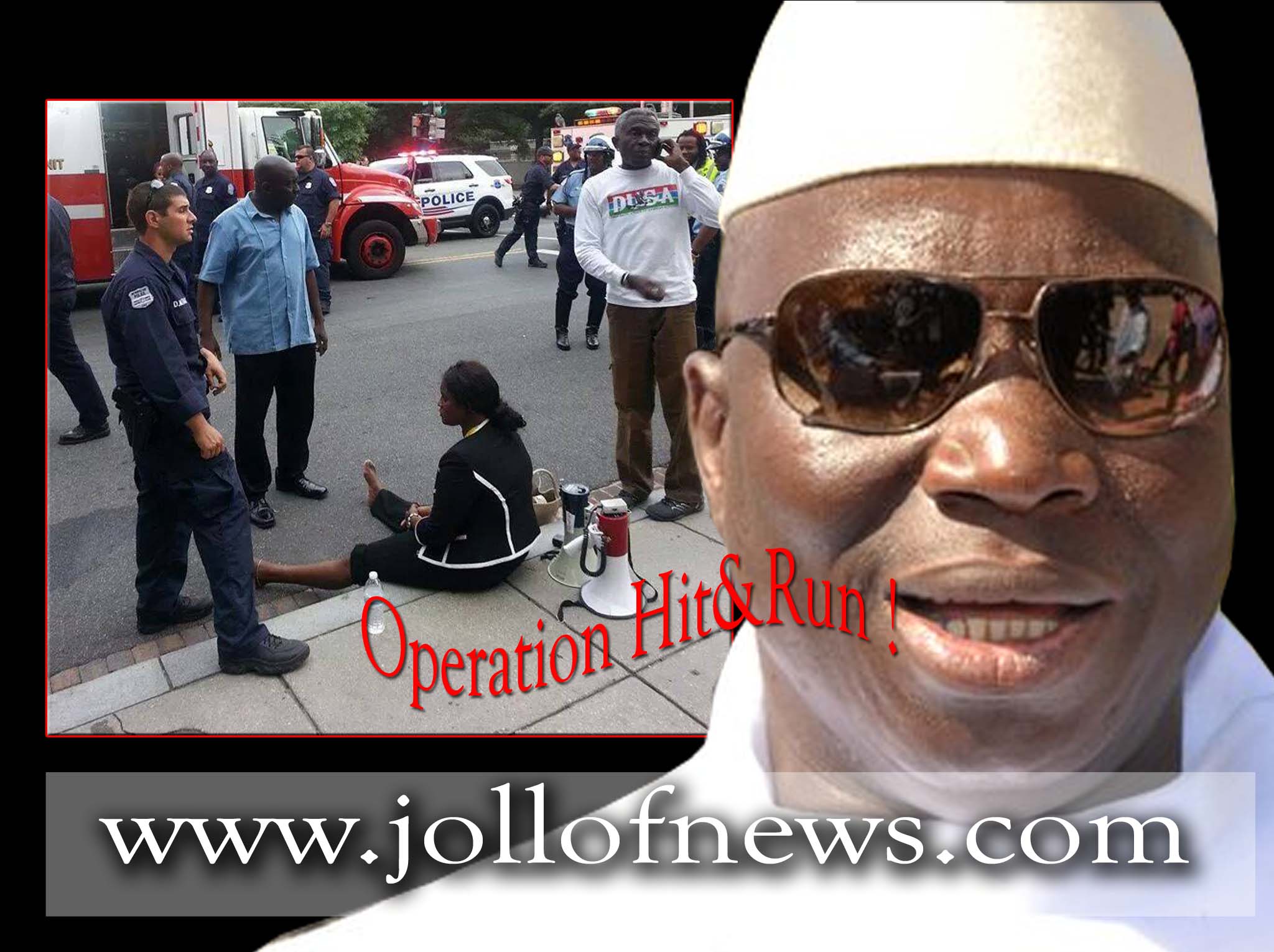 (JollofNews) – The ferocious attacks on Gambian journalist Fatou Camara by President Yahya Jammeh's security agents at the just concluded US
– Africa summit in Washington DC continues to draw angry reactions on social media. People from different walks of life including politicians, activists and human rights campaigners condemned the assault and called for the alleged perpetrators to be brought to justice.
Journalist Fatou Camara was repeatedly assaulted on 5, and 6 August 2014 by Gambian security personnel outside The Hay-Adams Hotel in the American capital, where the Gambian leader and his entourage were staying as he attended the summit with over 50 other African heads of state.
The hotel's main entrance was the epicentre of a protest organized by activists, journalists and other victims of the Jammeh regime which is regularly spotlighted for gross human rights abuses. A Gambian 'diplomat' Pierre Minteh, who is alleged to be part of the attacks was arrested and questioned by Washington DC Metro Police.
Photos of Fatou Camara injured were expansively shared on Twitter, Facebook and other social media sites with users expressing their disgust and anger at the actions of Jammeh's security services.
Mprez Jaa, a female columnist at Faturadio.com in a great show of anger posted on her Facebook wall: "All Americans should be disgusted that Dictators can grace the White House and assault political refugees and journalists on US soil. This is a sacrilege to the basic principles of this great nation!"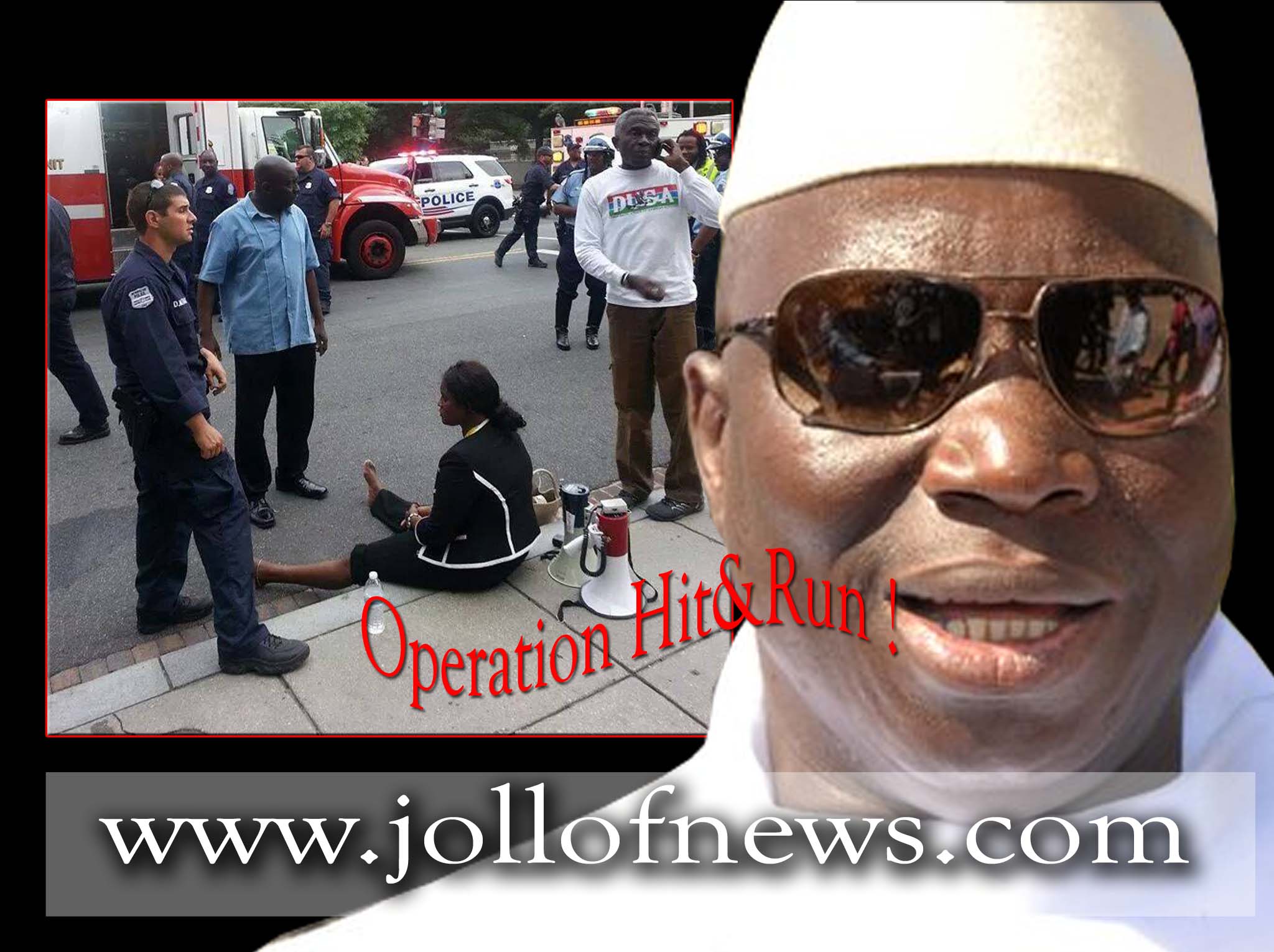 "I do not feel safe anymore. The butcher of Kanilai [Yahya Jammeh] has brought his act to town. Thank you President Obama," she lashed out at US President accused by many Gambians of ignoring their plight.
US-based Human rights activist Banka Manneh blamed the police for failing to protect Fatou Camara while Jammeh's men assaulted her. "Jammeh and his band of thugs decided to go after a defenseless woman standing by herself at the street corner instead of going after guys who were taunting them all over town," he posted on Gambia Youth and Women's Forum Facebook page.
While condemning the act perpetrated by pseudo-diplomats, the anchor of online newspaper Gainako, Demba Baldeh in an article highlighting how the show was stolen by the protesters indicated that the calling of massive security response of police, Secret Service and FIB officials to Jammeh's hotel to diffuse a fight and assault on Journalist Fatou Camara; Ousainou Mbenga, Pa Samba Jow and others was unprecedented and was the kind of result the protesters had ever hoped for, "Fatou Camara and other assaulted comrades must celebrate that they have achieved something a nation of almost two million people are still afraid to even try. Gambia should be proud of its sons and daughters who confronted Jammeh," he wrote.
This is a point of view echoed by Adjunct Professor at Rugers University, Binneh S. Minteh who explained that the attack on "journalist Fatou Camara and activist Coach-Pasamba Jow by the bodyguards of President Yaya Jammeh in Washington D.C has only justified our collective grievances and calls for an end to the Jammeh dictatorship in The Gambia."
As President Yahya Jammeh and his delegation head back to Gambia, the shadows of the Washington DC heroic protesters will certainty continue to haunt them. But whether this compels any positive change in Gambian politics remains to be seen.