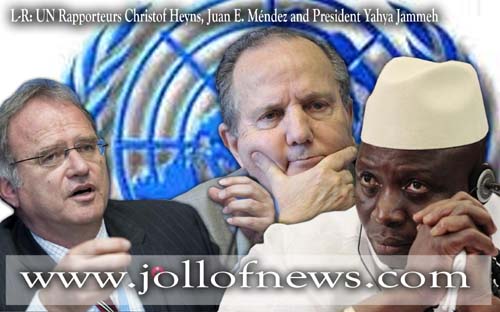 (JollofNews) – The Gambia has blocked entry at the last minute a week—long visit by two UN experts scheduled to start today until 18 August,
casting doubt on the tiny West African country's commitment to a better human rights record.
The UN Special Rapporteur on torture, Juan E. Méndez, and Christof Heyns, the UN expert on summary, extrajudicial and arbitrary executions, expressed their deep disappointment regarding the sudden decision by the Jammeh regime to postpone their visit until further notice.
"We find it extremely worrying that a major undertaking dealing with issues such as unlawful killings and torture can be cancelled without explanation, just as it is about to start," the experts said in a joint news release sent to JollofNews.
Earlier last week, the Jammeh regime issued a letter dated 6 August 2014, informed the Special Rapporteurs about the unsuitability of the visit due to an "unexpected commitment."
However, the Special Rapporteurs said they have reached out to the APRC regime for an explanation but the regime in Banjul is yet to provide any reason.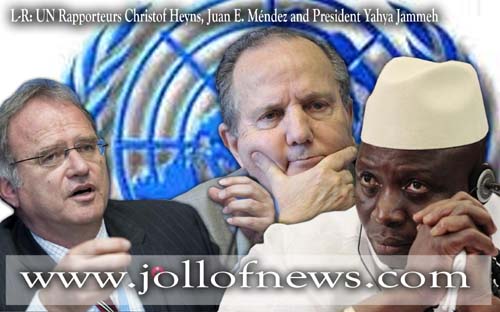 "The Government's decision to postpone our visit casts doubt on The Gambia's willingness to engage with the United Nations' special procedures and to respond to the legitimate expectations of the human rights constituency in Gambian civil society," they stressed.
Since coming to power in a bloodless coup in 1994 and ruled the Gambia with an iron fist, Yahya Jammeh has drawn international condemnation by subjecting political opponents to torture, forcing them to confess to sedition on television and executing prisoners in 2012. At the U.N. General Assembly in September, he stirred outrage by attacking gay rights as a threat to humanity.
"We continue to make ourselves available to the Government with the expectation that we will receive an explanation and set new dates for our visit as soon as possible," they said, adding that the human rights situation in The Gambia will continue to be closely monitored.