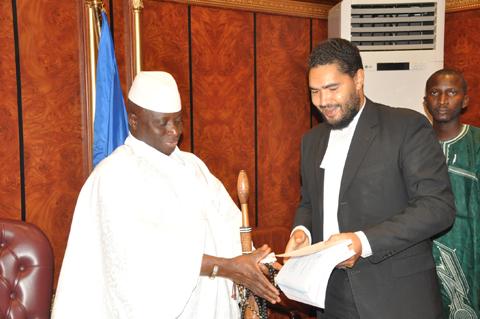 (JollofNews) – President Yahya Jammeh of the Gambia has fired the country's Attorney General and Minister of Justice, Mama
Singhateh.
Ms Singhateh, who was appointed to the post in August 2013, was sent packing Monday evening from her office on Marina Parade.
As always no reasons were given for her removal but a statement from the president office said she was ejected from the cabinet in accordance with the provisions of the country's constitution. She is the fourth justice minister to be hired and fired by President Jammeh in 24 months.
Ms Singhateh, a former Gambia Court of Appeal judge and law lecturer at the Gambia Law School is succeeded by Basiru Vassili Potier Mahoney, solicitor general at the Ministry of Justice.
Born in 1974, Justice Mahoney holds a first class BA Honours Degree in International Hospitality Management and a Postgraduate Diploma in Law and a Postgraduate Diploma in Professional Legal Skills (London UK). He is a member of the Honourable Society of Gray's Inn, Bar of England and Gambia Bar Association
He has been practicing law in the Gambia for six years and has also worked as a magistrate and high court judge.
While serving as high court judge, he chaired a ten-member Lands Commission that was set up by President Yahya Jammeh in 2011 to look into the illegal allocations, sales and administration of lands in the Gambia.