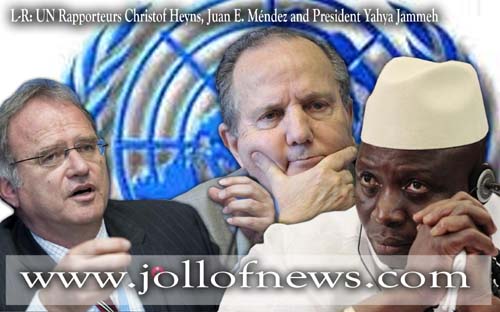 (JollofNews) – Amnesty International West Africa campaigner François Patuel has expressed disappointment at the Gambia's decision to postpone the
visit of two United Nations Special Rapporteurs.
UN Special Rapporteur on Torture, Juan E. Mendez, and UN Special Rapporteur on Summary, Extrajudicial and Arbitrary Executions, Christof Heyns were due to visit Gambia on 18th August 2014 as part of recommendations made by UN Universal Periodic Review (UPR) in 2010 and endorsed by Gambian officials in Geneva. But their visit was called off in the last minute by the government of Yahya Jammeh.
"It is a disappointing decision. Considering the constant deterioration of human rights situation in the Gambia, the recent postponement by the government of the visit of United Nations Special Rapporteurs does not augur well," Mr Patuel told JollofNews..
He added:"The Gambia has accepted the UN Universal Periodic Review (UPR) four years ago and as we are moving to the next step of the UPR in October, it is very important for Gambia to implement the recommendations."
The Gambia under the APRC regime of Yahya Jammeh is often spotlighted for gross human rights violation including arbitrary arrest, continuous clamp down on the media, and
extrajudicial killings. And despite international condemnations, the government continues to violate the rights and freedoms of its people with impunity leaving many observers sceptical about the future of democracy and the rule of law in the tiny West African nation under Yahya Jammeh.