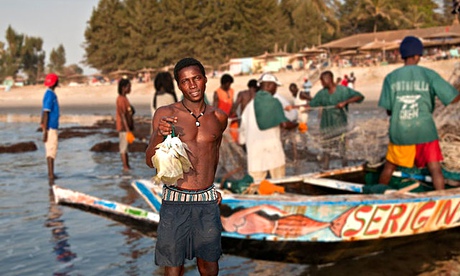 (JollofNews) – As tourist season begins, hotels have fewer guests than last year and the industry fears visitor numbers may be half the usual.
Omar Jarju looks out across a row of empty sunbeds around the Djeliba hotel's perfectly maintained pool, a few steps from the palm-fringed Kololi beach on the Gambia's Atlantic coast. "Every day in my inbox I get emails from clients, who tell me they've been warned not to come," he says, despondently. "They say 'Omar do you have Ebola?' and I say 'Oh for God's sake, no!'. Ebola is killing us, whether we have it or not."
This week is only the start of the Gambia's tourist season but Jarju, manager at the Djeliba, says the hotel is only 47% full, compared with 67% last year. Headlines about the rapid spread of Ebola in Sierra Leone, Liberia and Guinea are having a serious knock-on effect for other countries in the continent, according to the Gambia's ministry of tourism. The number of tourists could be down by as much as 50-60% this season in the Gambia, according to Benjamin Roberts, the tourism minister.
That could have devastating implications for a country with half of its population living under the poverty line. "When the international media talk about Ebola they say 'West Africa' – it's bundled together as one area or even one country. So, even though the Gambia is Ebola free, operators are facing cancellations," he says. "The people who are hit hardest are those at the bottom, the workers who rely on tourists for their livelihood and to feed their families." The government has strategies in place to keep the country free of Ebola – and make sure people know it is a safe place to go, he says. The ministry is working with tour operators, and a video showing visitors arriving in the Gambia and their testimonies is expected on YouTube next week.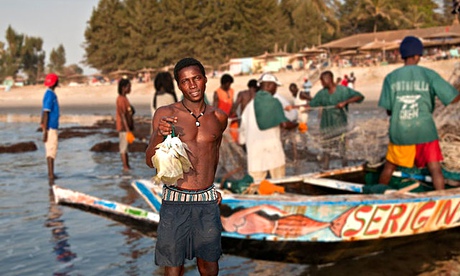 Tourism accounts for about 16% of the Gambia's GDP and directly employs 35,000 people with the same number again employed indirectly by the industry. It is the second biggest source of foreign currency in the nation – vital for the purchase of key imports such as rice. Recent years have hit the country hard, food crop pests and drought have led the UN to warn that 200,000 people among the 1.8m population need urgent food assistance.
Everyone is feeling the squeeze, under the blazing October sun that has succeeded the rains. Lugging a bag of bracelets, scarfs and trinkets along the beach, Kida Sanu, 35, explains that she supports herself, her sister and her four children. "I sell some trinkets, we get rice, school books. I don't sell – we don't have." It is only the start of the tourist season but, even so, business is slow. "This year is very poor, there are very few tourists around – this time last year it was much busier," she says. "It's all this Ebola – but here is safe, tourists come, tourists go – no Ebola."
David Barry, 38 has been operating his juice stall, selling freshly squeezed orange, lime and baobab juice, for 15 years. He reckons there are only a quarter of the normal number of tourists for the time of year. "It's only the start of the season, so I hope more will come," he says. "I think the ones who come year after year will come again. They know how important it is to us, but it is the new ones I worry about. Maybe they will stay away."
The Gambian government insists that all possible measures to prevent an occurrence of Ebola in the country have been taken. Omar Sey, the health minister, explains that Ebola screening has been introduced at all borders, a 24-hour toll-free telephone helpline was open and the public were being told how to recognise the signs of Ebola – through the training of local chiefs, radio stations, plays, posters, text messages and a social media campaign under the hash tag #EbolaFreeGambia. "We are speaking to schools, the heads of every village, to elders and young people," says Sey. "It is working, the message is getting across – we have the systems in place."
Ministers also note that Senegal, which controlled a possible outbreak of Ebola announced on 17 October and looks set to be declared free of Ebola by WHO, surrounds Gambia, putting an extra border between the country and danger.
Sanu, slinging her bag onto her back, hopes enough has been done. "If we get a case then yes, it is scary for tourism," she says. "But also we will also be scared for ourselves."
Source:Theguardian