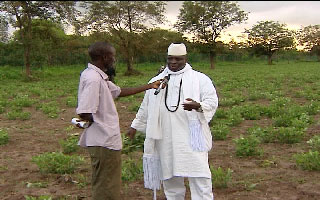 (JollofNews) – Beatrice Allen, according to Standard newspaper, is a Gambian-born director of one of the hospitals in the United Kingdom.
Beatrice, the paper also wrote, is a philanthropist who, not ages ago, donated a substantial amount of money to the Royal Victoria Teaching Hospital now baptised Edward Francis Small Hospital.
Beatrice, readers of Standard may recall, lately went to town and hit Gambian youths for what she called their indolence and tardiness in the quest for national development. She also lashed out at the country's youths for their "indiscipline" and even went on to suggest a one-year compulsory military service for all Gambia youths immediately after leaving school.
This, in her view, will help in instilling in them courtesy and respect for elders. Beatrice was not also charitable in her criticisms of Gambians in the Diaspora for their Jammeh bashings and even went another step further to describe them as unpatriotic and enemies of the country. Who is this Beatrice Allen?
Well, Beatrice Allen reminds us of a tradition of blame game of a government that she feebly attempted to defend. As you may know, blame game has now become synonymous with the APRC administration and, as a rule rather than exception, this regime is always out for scapegoats. This is all the more reasons, many of our compatriots either find themselves in the dark cells of the feared National Intelligence Agency (NIA), Mile 2, sacked or sent into exile for wrongs they know next to nothing about.
Why do Yaya Jammeh and supporters of his government always find wisdom in scapegoating innocent citizens for wrongs entirely government's?
Indeed, there is nothing wrong in calling on youths to farm the fields. What is indeed wrong is the lack of incentives for the youths to go back to the land. Slaving for months, braving the baking sun and rains for a few bagful of produce will not definitely attract youths to the land.
What is wrong in government providing incentives and formulating agriculture-friendly policies to revolutionise the sector? What is wrong in hiring experts who will work in a free environment with a view to producing fruitful outcomes? Little did Beatrice know that Gambia do not need a leader who will invite television crew to film his so-called farming activities when he is not in fact seemingly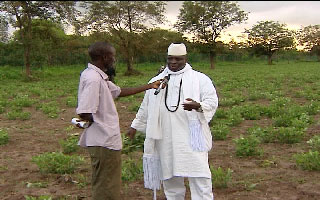 interested in boosting the agric sector.
If at all Mr. Jammeh is interested in promoting agriculture why is he entrusting tractors distributed to the regions to his supporters and hiring them out at costs that poor, hungry farmers cannot afford. In fact, his admission to his government's failure in taking the agricultural sector to another level in a recent New African magazine interview is an indictment of his government's agricultural policies.
With regards compulsory military service for all school-leaving Gambian youths, Beatrice should realise without trying hard that soldiering is not everybody's business. To become a soldier, one needs to be physically and mentally prepared. It requires a deep reflection and must be on voluntary basis. Advising a government that you claim to endorse and defend to conscript its citizens into the army is a costly mistake. Didn't Beatrice realise that she is pitching up the government against a possible avalanche of criticisms at a time when it is struggling with it's rights records?
Well, whether she likes it or not we will continue to constructively criticise Yaya Jammeh as long as he chooses to stay at the helm of affairs of our beloved motherland. Gambia is bigger than Mr. Jammeh and his cohorts. Jammeh is not above criticism and if he doesn't want to be criticised, let him leave. Criticising a government for its wrongs is patriotic and encouraging mediocrity in governance is an unpatriotic act. A word for the wise is sufficient.