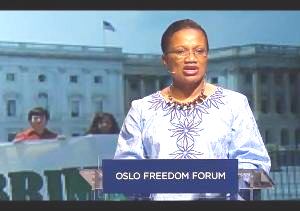 (JollofNews) – An exiled Gambian journalist who was in 2008 given a four-year jail term with hard labour for criticising the APRC regime of President Yahya Jammeh has spoken out about her arrest, detention and the human rights situation in the Gambia.
Fatou Jaw Manneh was arrested in 2007 at the Banjul International Airport shortly after arriving from the United States where she was residing for many years.
She had returned to the West African country which is being ruled since1994 with an iron first by President Yahya Jammeh, a former army Lieutenant, who sees journalists and human rights defenders as stooges of the west and has on numerous occasions ordered their killing, kidnapping and torture.
After several days in detention, Fatou was charged with four counts of sedition and granted bail. And on18th August 2008 she was found guilty and given a four-year prison sentence with hard labour, or a 250,000 Dalasi (approximately US$12,000) fine, payable the same day. She was able to raise funds to pay the fine from the Gambia Press Union and her family, thus avoiding imprisonment.
Explaining her ordeal for the first time during a two-day forum on defeating dictators held in Oslo, Norway, Fatou said:
"In 1994, my peaceful country descended into a brutal dictatorship when Yahya Jammeh seized power through a military coup.
For 20 long years, Gambia has been defined by fear and violence. Before Jammeh, tourists would come from all over Europe to enjoy our sun, our beaches, and the welcoming smiles from Gambian citizens. But that Gambia is no more. Now, Jammeh uses brother against uncle, mother against aunt, soldier against neighbour, community against community. He arrests, jails, tortures, and kills those who stand in his way. Today in our cities, soldiers with machine guns guard check points to instil fear, where only police used to stand to help guide traffic.
Gambian courts are filled daily by helpless families as the President brings lawsuits against them on bogus charges. Many journalists are accused of "writing false information and sedition."Like many other exiled dissidents, I have had to risk my life to see my family. In 2007, I decided to go back to Gambia to attend my father's funeral. I knew my dad's passing and my possible incarceration would be more than my mother could bear. So before leaving for Gambia, I promised to visit her and my two sons in London after the funeral. But it was a year and a half before I was finally able to leave.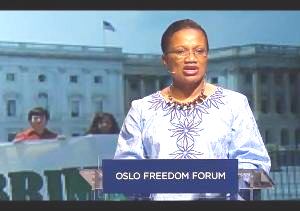 When I arrived in Gambia, I was greeted by some plain clothes secret service personnel at the airport. "You are Fatou Jaw Manneh??" they asked. "Yes," I answered. "Come with us," they said. My brother was there to pick me up. "Where are you taking her??" he asked. "We cannot tell you." Seeing my brother agitated, I begged him to go home I really knew they had me. I was ready for the showdown. Die or live.
In my own country, here I was crammed into a white pickup truck and driving into the darkness. No one would have known that our car of plain-looking Gambian citizens was actually a team of people whose job it was to make my countrymen disappear.
On and on we drove, and then I knew – we were heading to the capital Banjul, Residence of the president.
Suddenly, we made a swift turn down a road to a secret detention centre. It was enclosed by tall dusty walls and edged just along the Atlantic. I shivered as I realised that they could easily just throw me into the sea.
The young secret service agents did as they were told, keeping me up until 2am, and ransacking my suitcases. The interrogation rooms were huge, dusty and old. They left me, in a room. I looked around and saw a broken couch and, a window with torn mosquito nets.
I heard many stories of people disappearing by way of the deadly intelligence officers, but this time it was happening to me. It was terrifying. The thought of my mum and my sons was unbearable. I prayed inwardly and asked Allah to give them the strength to move on should anything happen to me. I swore to myself that I would not shed a tear for that punk of a president, Yahya Jammeh. When death comes it comes.
I could not sleep. Mosquitoes came buzzing in. To eat, I was given a half loaf of bread with boiled egg on a torn cement bag paper. I kept a pen hidden in my bra; I also had a small disposable camera tucked in the sleeves of my blouse. I could not sleep, so I told the guards that I wanted to use the bathroom
And then…it happened.
Coming out of a very filthy scary bathroom, a guard came to me and touched me lightly on my chest. I stood there. I thought I was going to be raped. But then he called my name: Jaw. Only someone who knows me in person or is from my neighbourhood would call me that name, as it is the last name of the woman I am named after! I answered. He told me he was the night guard. "I knew you very well in the village," he said, "but you will not remember me. I went to the same primary school I know your mum; she is like an aunt to me."
I don't know if he is still in the country or not. So I cannot discuss what we said that first night…but this was a sign.
"Allah is with you," I thought.
The fear of not seeing my sons again was toughest — but I discovered that we can surprise ourselves with what we are capable of under duress. I prayed for the best. I sensed it was going to be a very long journey, if I was ever going to see my children again.
When the morning sun came out the next day, I was happy that I was alive, not raped, not shot.
On the plane to the Gambia, I had met a few people I knew, and they witnessed my arrest, so they must have gone to the media. That morning, when I was summoned into an office, someone walked in with the Foroyaa Newspaper and I saw on the front page:
"Where is Fatou Jaw Manneh?"
There it was! A headline — the voice of the voiceless.
The interrogations soon began. I was always under surveillance. They deprived me of sleep and interrogated me several times a day. They kept telling me that my writings were destroying the country. They searched my articles on the internet and found the interview I had given to a newspaper [The Independent] that was fire bombed after it took my story to print. Then, they put me on trial and charged me with sedition and false information.
I was told I was a threat to national security, that the articles I wrote about the government would drive investors away. False witnesses were lined up against me. The trial continued for almost two years.
My case was so outrageous that Amnesty International, the Committee to Protect Journalists, and major press houses and human rights offices around the world came to my assistance to expose my ordeal. Foreign ambassadors kept an eye on me. And the US Secretary of State Condoleezza Rice even sent out a letter on my behalf.
Now I knew I would not disappear that easily! The international community was watching.
One day, finally, the verdict was read. I was convicted of sedition and writing false information against the government. I was fined US$12000 to be produced in two hours, or else I had to go to jail for four years with hard labour. I was shocked at the cruelty of it all, all for the crime of journalism.
My lawyer pleaded that I had two sons, that I had yet to finish my Master's programme in the US, and should be pardoned as a first- time offender. The magistrate [Buba Jawo] refused to hear it.
Leaving the courtroom I saw a police van parked outside, and an officer approached with handcuffs. I prayed and told my lawyer I was not paying a dime. I did not have the money, and the sentence was unjust.
What I didn't know was every family member and friend that was in that court house that day came with money. They scrambled to pay for the amount. Even the Gambia Press Union came up with US$2 000.
Finally, there was enough money – I was set free! The next day my friend's husband whisked me off to Senegal, where I stayed for six months to get my travel papers in order. Most Gambians, after they are set free, get quickly re-arrested, and taken back to jail with no trial. I was very, very fortunate I flew to London to see my family – I will never forget the relief I saw in my sons' eyes meeting them. From there I went back to the US, with the help of the Human Rights Defense Fund.
My lawyer, Lamin Jobarteh, who later became his Justice Minister is now serving a two- years jail sentence for giving false information to government. I was lucky.
Not so lucky was journalist Deyda Hydara, who we lost to a dictator's bullet. Chief Manneh has disappeared. The Publisher of my newspaper then, the Daily Observer, a Liberian refugee, was bundled up and sent back to Liberian warlords. Finance Minister Koro Ceesay burned down to ashes in his car. 43 Ghanaians were killed, almost 1000 old folks around the country were arrested and forced to drink concoctions, it became fatal for most of them, the effect and the humiliation, killed many of them. In 2009, the dictator executed nine prison inmates, his convoys kill more children in the poor country than all the road accidents that happen in the country.
In December, 2004, the Jammeh government passed two new media laws. One imposed prison terms for sedition and defamation. The other made it a requirement for newspaper owners to buy expensive operating licenses, registering their homes as collateral. Complete overhaul Actually now The adjusted Information and Communication Act 2009 which was passed by the National Assembly in Banjul on July 3 – allows for a fine of D3 million (about US$100,000) or imprisonment for fifteen years or to both fine and imprisonment – to anyone convicted of using the internet to spread false news about the Government or public officials- according to Front Page International. Deyda, a champion of the press, announced his intent to challenge these laws. Two days later, he was assassinated by an unknown gunman. Today, there are hundreds of Gambians who have been Flee, killed or disappeared.
Defeating dictators is an arduous task. They have entire countries and billions of dollars at their disposal. They control the military and unleash it on civilians. Killings are like sport to them.
Dictators are like natural disasters to world citizens. Gambia and its citizens suffer more from our President Yahya Jammeh than we ever will suffer from fire, flood, famine, drought, or disease. So how do we defeat tyranny? First; by looking at dictators squarely in the face and exposing them. They are all bullies and cowards at heart. They fear the truth. They fear the fearless. That is why I thank all the other participants here… We all share the same story.
Many of us were persecuted for telling the truth. We all have faith and maintain courage, or we would not be here. Many others could not make it in this world. They have disappeared and or have been killed. We are the lucky ones — and now must be their voice.
We are here to speak the unspeakable, so the world will listen. All of you are super heroes. You have a good heart. You are kind people and you the best for your communities. Everyone in this room has something to offer this world. Call me anywhere, China, New Zealand, you will have my support but I also need your support and attention to this very beautiful country destroyed by a brutal dictator."