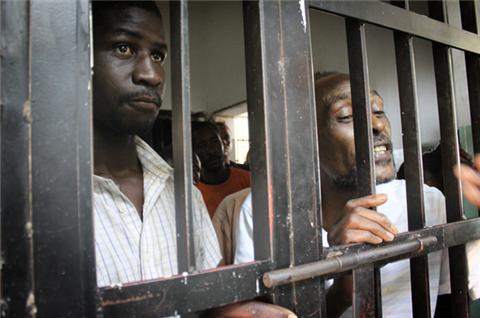 (JollofNews) – Reports from Libya say at least 30 African migrants including Gambians, serving various jail terms in the Libyan town of Zawia have escaped from prison.
Details of a prison break are emerging albeit in trickles but reports say over a dozen migrants were seriously injured in the ensuing commotions.
According to Sunday Omoregbe, a Nigerian national, seven of his compatriots and nationals of other West African countries, including the Gambia late last week managed to break the Zawia prisons as there was "no apparent end in sight" to their prolonged incarceration.
"We've been imprisoned at Zawia for more than six months without any end in sight to our predicament," he added.
"The prison authorities were not at all sensitive to our plight, especially when it comes to conditions of detention. We were served only a loaf of bread and a cup of water a day. No blankets and the sanitary conditions are poor. We were treated like dogs with daily physical torture."
Mr Omoregbe said though a number of prisoners have managed to escape, many have been recaptured amidst small arms and heavy machine gun fire.
"I saw lot of inmates struggling with varying degrees of injuries. Indeed, so many have been seriously injured in the mass flight but I can't tell whether anyone has so far died," revealed Kofi Dango, a Ghanaian national.
Conditions of detention in Libyan jails has for long attracted the attention of human rights groups with successive governments denying reports of gross rights violations in prisons across the country.