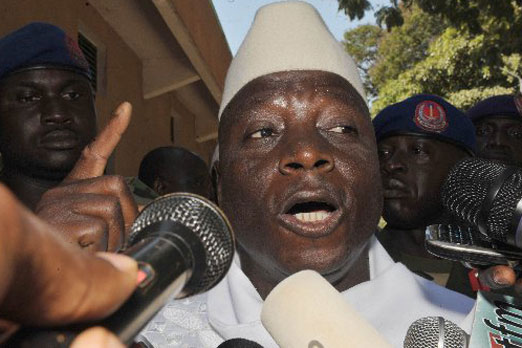 (JollofNews) – President Yahya Jammeh of the Gambia has accused the Guinean government of being ungrateful and acting in a bizarre manner after it failed to thank him for donating US$500,000 in support of its battle against the deadly Ebola epidemic.
In a statement read on state television, Mr Jammeh said the donation, which was made in September this year, was made in the spirit of African solidarity and the failure of the Guinean authorities to thank him is bizarre, regrettable and unfortunate.
"The funds were transferred to an account provided by the Central Bank of Guinea, which has since acknowledged receipt of the money with gratitude but the Guinean government is yet to acknowledge receipt of the money through regular diplomatic channels," the president said.
"This bizarre attitude on the side of the Guinean government is unfortunate and regrettable."
He reminded Gambians that a similar donation was made to the Government of Sierra Leone which has since acknowledged receipt of the money with gratitude.
Although the Gambia is one of the poorest countries in Africa and depends heavily on foreign aid, President Yahya Jammeh and his government is often accused of corruption and lacking financial discipline. The president is always seen on national television donating millions of Dalasis to international and local celebrities.