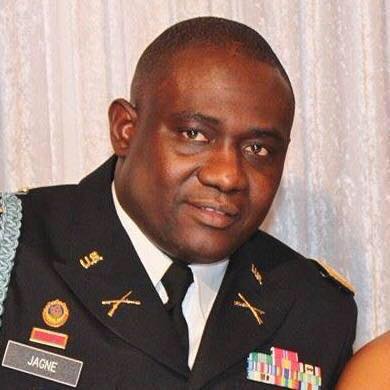 (JollofNews) – The ex-wife of one of the armed men who was killed in Tuesday's foiled coup against the APRC government of President Yahya Jammeh has told a US television station that she is struggling to explain his death to their nine-year old son.
US army captain Njaga Jagne was part of a group of armed men who crossed into the Gambia from neighbouring Senegal and lunched an armed attack at the presidential palace in Gambia's capital, Banjul and Denton Bridge.
Four other armed men including their leader and former State Guards commander, Lt. Colonel Lamin Sanneh were also killed in the attack while four others were captured and detained at various military posts in Banjul.
In an interview with Lexington TV in Kentucky, Katrina Sharp, who was with Njaga for the better part of seven years, said she was shocked to hear in the news that he was killed in the Gambia.
"From what he told me before he left he was just going out of town and he dropped his son off and he said he would be back he really didn't tell much to anybody," she said.
After hearing the news, Katrina was left with the difficult task of explaining to their son, Omar that his dad was never coming back home.
"I didn't know how to tell him," she said.
"I was sitting on the bed and told him that he wasn't going to be able to see his daddy anymore. I love him because we have a son together. I just wish he would have spoken to his son."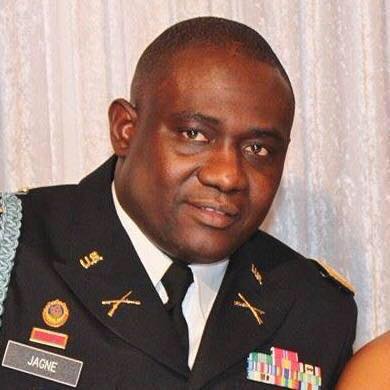 It is not clear how Njaga Jagne who joined the US army shortly after marrying Katrina was killed in the quest to topple the 20 year-old regime of Mr Jammeh. But from what Katrina was told, he was shot while trying to save a wounded colleague.
"He was trying to go in and save somebody and he didn't want to leave without them and they shoot him down," a tearful Katrina said. "We have to get his body from the ones that basically killed him."
Terrorist
Meanwhile, President Jammeh has blamed dissidents based in the US, Germany and the UK for the attack.
The president denied that the attack was mounted by sections of the Gambian military.
"The Gambian armed forces are very loyal as far as we are concerned – there isn't any single participation of the armed forces except nullifying the attack," he said in a television interview on Wednesday night.
"So this cannot be called a military coup – this was an attack by a terrorist group backed by some powers that I would not name."
The US government has denied that it had any role in the alleged coup attempt.