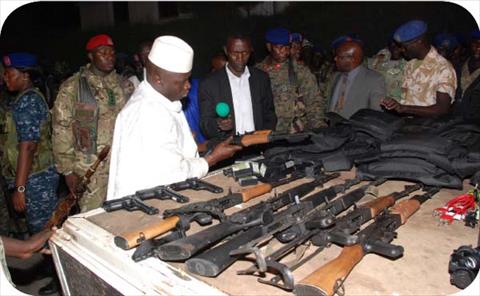 (JollofNews) – Two men have been charged in the US with attempting to overthrow The Gambia's President Yahya Jammeh, the justice department has said.
The men, who are of Gambian origin, will appear in court on accusations of conspiring against a friendly nation and conspiring to possess firearms, it added.
Gambian authorities said they had thwarted an invasion on 30 December.
Mr Jammeh seized power in the tiny West African nation in 1994.
He is accused of not tolerating any opposition.
Mr Jammeh was abroad when heavy gunfire broke out near the presidential palace in the capital, Banjul, on 30 December.
He later returned home and accused dissidents based in the US, UK and Germany of being behind the attack.
US-Gambian dual national Papa Faal, 46, and US resident Cherno Njie, 46, were arrested in the US after they returned from The Gambia, where they had helped launch the attack against the government, the justice department said in a statement.
Mr Njie was in charge of the conspiracy and would have been appointed interim leader of The Gambia had the coup attempt succeeded, according to documents filed in court.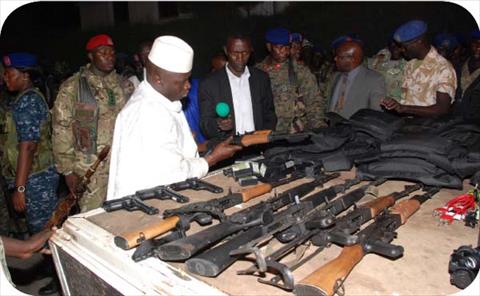 Weapons, including M4 semi-automatic rifles and other military equipment were last year shipped to The Gambia for use in the attempted coup, US officials allege.
US Attorney General Eric Holder said the US condemned the attempted coup.
"These defendants stand accused of conspiring to carry out the violent overthrow of a foreign government, in violation of US law," he said in a statement.
"The United States strongly condemns such conspiracies. With these serious charges, the United States is committed to holding them fully responsible for their actions," he added.
Mr Jammeh has won several elections since seizing power but critics say they were neither free nor fair.
Numerous officials and opposition leaders have fled the country, saying they fear for their lives.
Apart from a short Atlantic coast, The Gambia is entirely surrounded by Senegal.
The main foreign-currency earners for the country of two million people are tourism and peanut exports.