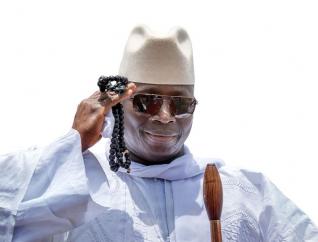 (JollofNews) – President Yahya Jammeh of the Gambia has vowed to use retributive justice on the coup plotters involved in last week's foiled coup against his 20-year old regime.
Last Tuesday, dissidents armed with night-vision goggles, body armour and semi-automatic rifles bought at shops in the US, hidden beneath clothes and shipped in barrels to the Gambia, attacked the presidential palace in Banjul and Denton Bridge while Mr Jammeh was away on a private visit to Dubai.
They had earlier planned to ambush the president's convoy but their hope for military support from 160 locals did not materialise.
An "Alpha Team" would mount an assault on the front of the State House in Banjul; "Bravo Team" would secure the rear. A warning shot was fired into the air but a gun battle erupted, and an attempt to ram the front door using a rented vehicle failed and members of Alpha Team were killed.
Speaking to his party loyalists after his return to Banjul, Mr Jammeh promised to come down heavily on the coup plotters in order to put an end to their 'nonsense'.
"I have been very lenient and merciful despite reports to the contrary," he said. "But now, I would be what I am supposed to be – a good Muslim leader with an eye for an eye philosophy. An eye for an eye is in the Qur'an and the Old Testament."
Mr Jammeh said he is going to get rid of dissidents trying to topple his regime one after the other.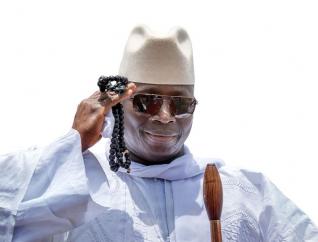 Commenting on the circumstances of the attack, the Gambian leader said he was unable to sleep the night before the attack and have spent it in prayers instead.
He added: "I couldn't sleep for whatever reason on night before the incident so I spent two consecutive nights praying. At 5am local time in Dubai [2:30am in Banjul], the security knocked at my door and I knew it was not a good message. They told me someone was on the line.
"As soon as I said hello, what happened the caller said 'we've been attacked'. I asked who they were and he said 'the same people that are on our intelligence report'. I told him to get the leaders alive but he said they're dead. I told him to try and see if they could revive one of them. I mean it because I am going to put an end to this nonsense. I am going to set an example. The last time I said it and people begged me to have mercy, this time it is going to be an eye for an eye. And I am going to get rid of these elements one by one until the last person."
Mr Jammeh denied reports that the army was involved in the plot to overthrow him.
"I am proud of the armed forces and other security forces," he added. "They are all behind me. It is just 0.009 per cent that is rotten. But, let me tell you one thing, apart from the decision of the Almighty Allah, no human soul, animal, fish or insect, black or white, can remove me from power."