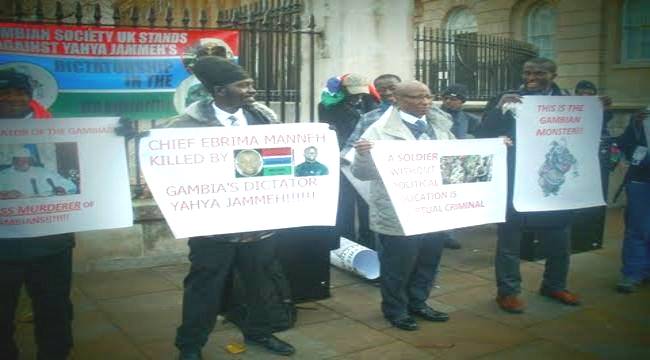 (JollofNews) – Gambian activists and opponents of President Yahya Jammeh in the diaspora have announced plans to stage a demonstration against the arrest and continuous detention of relatives of dissidents involved in last month's bungled coup plot.
On 30th December, a group of Gambian dissidents armed with night-vision goggles, body armour and semi-automatic rifles bought at shops in the US, hidden beneath clothes and shipped in barrels to the Gambia that attacked the presidential palace in Banjul while Mr Jammeh was away on a private visit to Dubai.
The dissidents say they were trying to "restore democracy to the Gambia and improve the lives of its people." And believing that they had "up to 160 members of the local Gambian military" on their side and that the president's guards wouldn't risk their lives to defend him, the dissidents "hoped they would be able to take over the country without having to kill any Gambians.
But a gun battle erupted, an attempt to ram the front door using a rented vehicle failed and four members of group were killed while one was captured.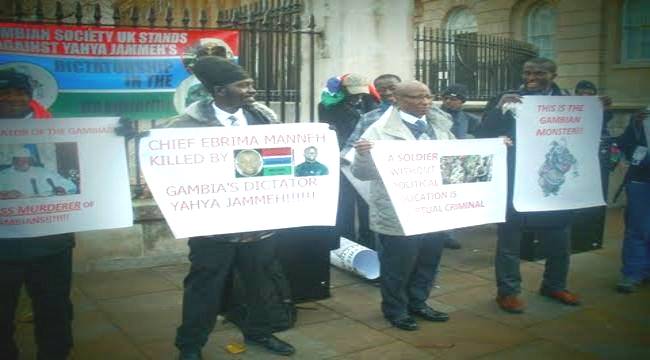 President Yahya Jammeh has vowed to teach the dissidents a lesson and there are several unconfirmed reports that relatives and some family members of the dissidents involved in the attack on the presidential palace have been arrested and detained by state security agents.
In the light of these reports, Protest Gambia Movement, Democratic Union of Gambian Activists (DUGA) and other Gambian civil society groupings will on 26 January take to the streets in the UK, Senegal, US and the Gambia to demand their immediate and unconditional release.
A former army lieutenant who came to power in a military coup 20 years ago, Mr Jammeh who is has been governing the Gambia with an iron fist. He loves drawing international condemnation by lashing out at gays and lesbians and subjecting political opponents to torture and forcing them to confess to sedition on television. His regime is accused of committing serious rights abuses including arbitrary arrest and enforced disappearance.