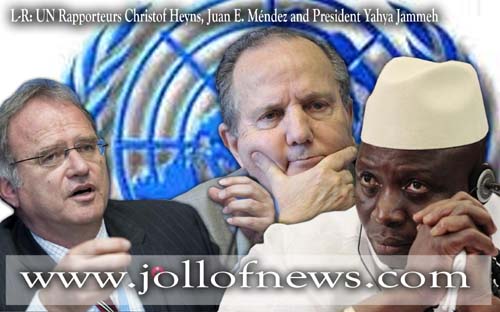 (JollofNews)–Security officials in the Gambia routinely torture people taken in as suspects or for interrogation, a Special Rapporteur on torture and other cruel, inhuman and degrading treatment or punishment, has claimed in a graphic new report.
In his report to the 28th session of the United Nations Human Rights Council in Geneva, Special Rapporteur Juan E. Méndez alleges systemic use of torture such as punching, slapping and blows with objects such as canes or batons and burns by the security officers, particularly agents of the feared National Intelligence Agency (NIA) based on witness testimonies and other evidence gathered over the course of a visit to the Gambia from 3 to 7 November 2014.
He said while in Banjul, he received many testimonies from people who did not want to be identified out of fear for either their own safety or their families and conducted thorough interviews and forensic medical examinations by an independent forensic expert.
Mr Mendez who was appointed to the top UN post in October 2010, said torture in the pre-trial period is being used in the Gambia to break down individuals and obtain information and in some cases, individuals are severely beaten by men in plain clothes, believed to be from the NIA, to extract confessions, which are routinely submitted and accepted as evidence before the criminal and military courts.
Mr Mendez added that he "found the testimonies truthful and consistent with other testimonies regarding the practices and methods used and substantiated this with physical evidence presented by a number of cases which were consistent with their testimonies of beatings by fists or blunt instruments and the injuries showed treatment that amounts to torture (or is consistent with allegations of torture)."
He added: "The nature of the torture is brutal and includes very severe beatings with hard objects or electrical wires; electrocution (including to the genital area), asphyxiation by placing a plastic bag over the head and filling it with water, cigarette burns, tying up with ropes, burning with hot liquid and an account by one victim of having to dig his own grave believing he would be buried alive. These methods of torture generally occurred over a period of days or even weeks, usually either at NIA headquarters or in other unofficial places of detention."
Unofficial Places of Detention
The respected Argentine born legal expert who served special advisor to the Prosecutor of the International Criminal Court, said he heard testimonies and received corroboration from a number of reliable sources that there are 'unofficial' places of detention in the Gambia which includes secret cells in military barracks, NIA and National Drugs Enforcement Agency (NDEA) headquarters, prisons, and police stations, particularly in remote areas.
He said he also received numerous testimonies that referred to a "Bambidinka" or crocodile pond, a "dungeon" of small, dark and isolated holding cells in the ground, reportedly at Jeshwang prison and NIA headquarters and detailed maps and sketches of unofficial buildings being used, including old forts and warehouses that are being used to detained people.
Prolong Detentions
Mr Mendez who is is a visiting professor of law at the American University – Washington College of Law, added that although it is unconstitutional to detain people beyond 72 hours in the Gambia, testimonies of persons who were held either in NIA Headquarters or in other "unofficial places of detention" reveals an ongoing practice whereby persons are held incommunicado for many days or weeks.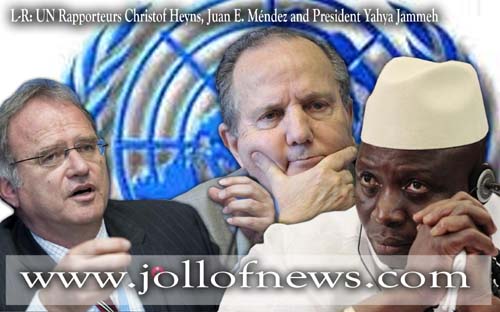 He said one individual was reportedly held for nine weeks and, in a recent case, three perceived homosexuals were held for over six weeks under inhumane conditions before being handed over to the police and brought before a judge.
He said accounts of torture are severe and routine for those charged with "aggravated homosexuality" or for those considered a "high risk to state security" and are routinely held in clandestine detention.
Paramilitary Forces
The Special Rapporteur said he received diverse reports and testimonies about the existence of paramilitary groups associated with the Gambian security forces and under the direct orders of President Jammeh.
He said he heard of a secret unit reportedly called the Jungullars (also known as "Junglers" or "Black Blacks") which is associated with reports of arbitrary arrests, detention, torture, enforced disappearances and extrajudicial killings against persons considered to be opposed to the regime, journalists and ordinary civilians.
"The methods reportedly used to conduct torture and assassinations is with hammers, machetes, ropes, nails, pliers, needles and syringes injected into the victim's body," Special Rapporteur Mendez added.
Layer of Fear
Mr Mendez said although the Gambia emerged from a colonial past in 1965, President Jammeh's views dominate and control the lives the nearly 1.8 million Gambian citizens.
He added that while in Banjul, he observed a layer of fear that was visible on the faces and in the voices of many he met from civil society and this even extended to some government officials.
Special Rapporteur Mendez added that the foiled coup attempt of 30 December 2014 has made the precarious human rights situation in the Gambia even more dire with the reported arrest of at least 52 individuals (civilian and military personnel. He said some of the detainees including family members of the coup plotters are being held at unofficial places of detention and are at great risk of being tortured.
Regress
The Special Rapporteur observed that judging by President Jammeh's response to recent event, is of the opinion that the Gambia may regress further regarding human rights as deprivation of personal liberty and risk of torture, arbitrary detention or enforced disappearances may be on the rise.
He added: "There is also clearly an imminent financial challenge facing the Gambia. However, this reality is not acknowledged by the government as an opportunity to open up and accept external assistance in return for engaging not only with the international community but most importantly with its own citizens. Only by doing so can the Gambia move towards a more humane society that does not tolerate abuses or existing conditions which give rise to cruel, inhuman or degrading treatment or punishment, or even torture."