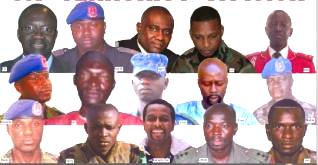 (JollofNews) – A high court judge in the Gambia Wednesday granted a government request to issued a warrant for the arrest of nine Gambians allegedly involved in last December's plot to overthrow the APRC regime of Yahya Jammeh.
Cherno Njie, Mustapha Faal, Alhajie Saidy Barrow, Papa Faal, Baboucarr Bai Lowe, Musa Sarr, Landing Sonko, Lamin Njie and Aisha Jallow are charged with eight counts of criminal offences including treason and mutiny.
They are said to have conspired and endeavoured to effect an unlawful regime change contrary to the laws of the Gambia.
The Inspector General of Police of the Gambia, Interpol and other relevant authorities have been instructed to arrest the accused persons wherever they may be and produce them before the court to stand trial.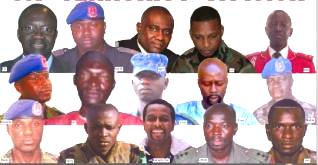 On 30th December 2014, Gambian dissidents armed with night-vision goggles, body armour and semi-automatic rifles bought at shops in the US, hidden beneath clothes and shipped in barrels to the Gambia, attacked the presidential palace in Banjul while Mr Jammeh was away on a private visit to Dubai.
They had earlier planned to ambush the president's convoy but their hope for military support from 160 locals did not materialise. An "Alpha Team" would mount an assault on the front of the State House in Banjul; "Bravo Team" would secure the rear. A warning shot was fired into the air but a gun battle erupted, and an attempt to ram the front door using a rented vehicle failed and members of Alpha Team were killed.
Six soldiers were last month sentenced to death and life imprisonment by a secret military court marshal for their role in the coup while an unknown number of civilians including family members of the suspected coup plotters have been arrested and are being held incommunicado at unofficial places of detention.
Meanwhile, three of the wanted men, Cherno Njie, Papa Faal and Alagie Saidy Barrow are already standing trial in the United States for their role in the coup and their is no chance of them being handed over to the Jammeh regime.