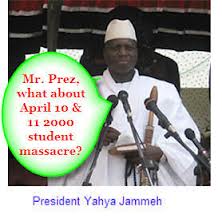 (JollofNews) – April is here again, as are fresh and bad memories of Gambians and all those who have been craving for justice over the last 15 years for the massacre of over a dozen unarmed, innocent children in the Gambia.
The ghastly killing of those defenceless students in the two-day event is indeed still fresh in the minds of most Gambians, and it will remain so until justice is done and be seen to be done.
The Jammeh regime can stifle the chance of the people commemorating it in the open, but it can`t kill the strong feeling of the people towards the loss of their loved ones.
Some have described April 10 and 11 as a forgotten history. No way!
It`s no doubt among the saddest days in the Gambia`s history; when security forces, under the authority of the same government that was supposed to protect them, fired live bullets on the protesting students resulting in the death of over a dozen of them, including a journalist. Many more were injured. Some of those injured have been handicapped permanently.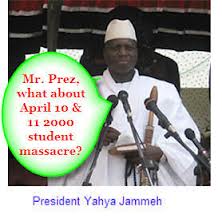 Between President Yahya Jammeh and his Vice President, Isatou Njie-Saidy, whoever ordered the indiscriminate shooting and killing of the students, as has been debated by many, remains a mystery for now to most Gambians. But Allah willing it is just a matter of time.
Also, while await the right time to find out who bears the brunt of the responsibility, there is ample grounds on which to indict the government for complicity, as it were.
The report by the government sanctioned commission of inquiry on the incident identified security officers, including members of the Police Intervention Unit (PIU), and even the military.
But what did hear… an indemnity bill, passed by this government seeking to indemnify the supposed perpetrators. What`s wrong with the constitution Yahya Jammeh had swore to protect?
Sadly also, up to this day, going by authoritative media reports in Gambia, no reasonable support has been accorded the victims, neither by the government no by the perpetrators. Under the circumstance, how could anyone justify that the APRC government of Jammeh cannot be blamed for its obvious part in the whole incident?
Yet we have heard Jammeh splashed with endless praises for being the best humanitarian of the century.
May the souls of the dead victims of that sorrowful day rest in peace, and for the injured, may God touch the heart of the real good ones to remember them in their continued troubles!
As for those responsible, it`s just a matter of time. Make no mistake. Rest in peace Calisco Preira, Burama Badjie, Karamo Barrow, Reginald Carrol, Omar Barrow, Wuyeh Massally, Momodou Chune, Lamin .A. Bojang, Ouman Sabally, Bamba Jobarteh, Abdoulie Sajaw, Bakary Njie, Sainey Nyabally, Ousman Sembene and an Unidentified victim.