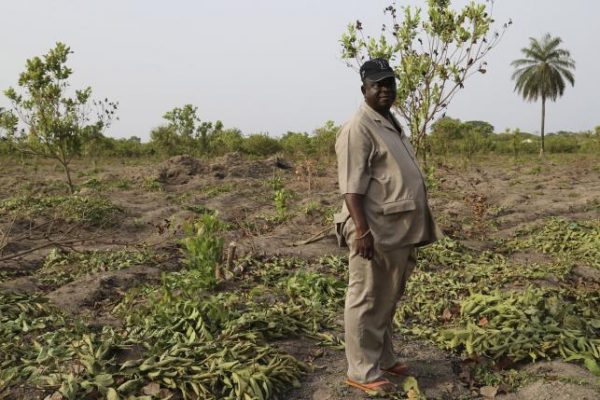 (JollofNews) – Relaxing in flip-flops in a shady corner of his farm near a pile of freshly-raked cashew nuts, the former head of Guinea Bissau's army General Antonio Indjai says he has turned in his weapons and his days as a coup leader are over.
For many, Indjai is a symbol of all that went wrong in the former Portuguese colony that is one of Africa's most fragile states. Since 1980, Guinea Bissau has suffered nine coups or attempted coups, including one led by Indjai in 2012 that led to two years of public looting and a surge in drug trafficking.
Until his dismissal in September by a newly-elected president, Indjai was the most feared man in the country of 1.7 million people, protected by guards with rocket-propelled grenades.
He was blacklisted by the United States as a drugs kingpin and accused of plotting to swap missiles for cocaine with the Colombian rebel group FARC.
Officials hope Indjai's retirement will set an example for an aging generation of officers who grew used to meddling in politics, as Guinea Bissau embarks on an overhaul of its military backed by African and Western donors.
"This is my only arm now," Indjai told Reuters, wielding a machete he was using to clear undergrowth, adding that he had written to authorities asking to be among the first to receive money under a retirement scheme for soldiers. "The military wants the reform. They are tired."
A short distance from Indjai's farm outside the town of Mansoa is a stretch of road that security sources say was used as a landing strip for drugs transiting from Latin America to Europe via Guinea Bissau.
Indjai denies involvement in the illegal trade. "If I was trafficking, why would I be clearing bushes?" he said, pointing to grazes on his hands and feet. Indjai says he wakes at dawn to work in the fields with his sons, stopping only for a picnic lunch in the cashew orchards.
Western governments and African neighbors, tired of having an unstable narco-state in a fragile corner of West Africa, are keen for the reform to proceed as quickly as possible.
Guinea Bissau's top U.N. official Miguel Trovoada says the changes should happen while the country benefits from the stabilizing influence of a West African peacekeeping force of 600 soldiers, whose mandate is expected to be renewed this week. "Peace can be deceptive. That's why we need to urgently make progress so that the gains are irreversible."
"HAPPY AND PEACEFUL" SOLDIERS
Boosted by more than 1 billion euros ($1.12 billion) in donor pledges in March, President Jose Mario Vaz has set out a plan to overhaul the country by 2025.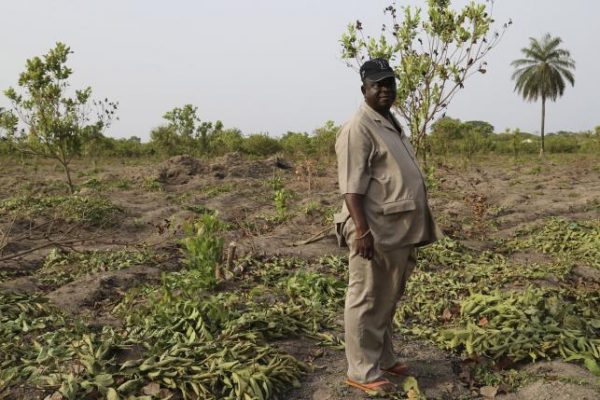 The government, elected a year ago, aims to retire nearly half the army's 5,000 soldiers over five years. Among the first 500 to go this year will be some coup leaders named on a European Union sanctions list, Defence Minister Cadi Seide said.
Like Indjai, who joined the army during the 1963-74 war of independence from Portugal after seeing his father decapitated, many are in their 60s or older.
Army reform has failed before and success will require packages that make soldiers "happy and peaceful", Seide said. The top retirement bonus will be about 25 million CFA francs ($42,450), generous by regional standards.
"If we improve conditions and they have time to be with their families, they won't have a reason for coups," she added.
One concern is a $20 million gap in the $83 million pensions fund, Seidi confirmed, adding that appeals for more funding were underway to other countries including Angola, once a major defense partner. The $260 million total security reform package is about four times the country's 2013 fiscal revenues, according to the African Development Bank.
Western diplomats worry that a halt in pensions could spark unrest but say it is tricky for donors to bankroll payments that might also go to suspected criminals.
Other changes are underway. President Vaz has reshuffled his guard, formerly dominated by Indjai's minority ethnic Balanta group. The national guard head Tomas Djassi, seen as close to Indjai, was replaced this month along with the chief of police, Armando Nhaga.
Unlike the 2012-2014 period when Indjai received sacks of cash to pay army salaries, wages are now paid through banks, making it harder for top officers to lead their troops astray.
"Before it was easy to manipulate groups because they were dependent upon them (officers) for their pay," said Vincent Foucher, senior West Africa analyst for International Crisis Group.
U.S. diplomats visited in May to discuss destroying potentially unstable missiles once used to down Portuguese aircraft in exchange for security reform funding.
Leonardo de Carvalho, an army colonel in charge of collecting weapons, says disarmament is working, pointing to three 20 ft (6 meter) containers of arms in the courtyard of the main Amura barracks.
A Reuters reporter saw two of Indjai's personal Kalashnikovs, with his name and the date they were handed over (April 24), marked in white correction fluid. House-to-house searches will begin in June to round up illegally-held weapons.
"I had kept my arm as a precaution because of all the plots and coups but I knew it was time to hand it over," said 48-year-old trader Mario Na Lede.
CRUMBLING CAPITAL CITY
Instability means the country's capital, Bissau, has missed out on the economic boom underway in other West African cities such as Abidjan in Ivory Coast.
Avenues lined with mango trees are full of potholes and the main port is so shallow that shippers have to time their deliveries for high tide. A once-swanky colonial-era hotel is a crumbling ruin.
Guinea Bissau's dynamic prime minister Domingos Simoes Pereira, has helped to get basic services including electricity working after the post-coup transition period, when Western donors cut off aid.
Pereira has also led efforts to halt illegal logging, a business that government sources say was helped by corrupt military officers. But the drugs trade, thought to have helped to finance past rebellions, is harder to control.
Police complain they cannot do basic detective work to track the boats and planes that bring drugs to the remote mangrove-fringed shores and islands. Their offices have only one operational computer and a typewriter. The airport has a radar that does not work.
Each time police want to launch a drug sting, they have to request funds from the government.
"We have very strong intelligence on three fishing boats that keep coming but never go into port," said a senior police source. "But by the time we get approval, it's too late."
Observers also worry about tensions between the president and prime minister, fed by overlapping duties in Guinea Bissau's semi-presidential system.
A January U.N. Security Council report listed among the main risks "an exacerbation of tensions between current leaders" and warned of the risk of political assassinations.
Pereira said a convention was planned to ease tensions within the ruling PAIGC party, with a committee studying the constitution to clarify responsibilities.
Officials say publicly there will be no amnesty for top officers suspected of crimes. Privately they admit it would be too dangerous to pursue them now, as this could raise the risk of a nervous military man contemplating another coup attempt.
"If we go after one of them, the others could panic," said a minister, speaking on condition of anonymity.