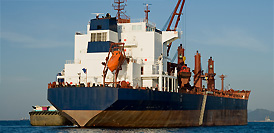 (JollofNews) – The United States Coast Guards Monday announced sanctions on US-bound vessels calling at the Banjul port due to the Gambia's weak anti-terrorist measures.
In a public notice on 22 June, the US Coast Guards placed seven conditions on vessels arriving in the US that have visited any Gambian port within the vessel's last five port calls.
The measures, which become effective on 6 July, include a vessel's crew ensuring each access point is guarded while the ship is docked in the Gambia.
The vessel may also be required to ensure that each access point to the vessel is guarded by armed private security guards while in the US.
The Coast Guards decided in September 2013 that Gambian ports were not maintaining effective anti-terrorism measures. The US requested that the country improve its port security in July 2014, however, "to date, we cannot confirm that the Republic of the Gambia has corrected the identified deficiencies," the coastguard said in the notice.
Gambia becomes the third country this year, and 18th overall, to fall under a 2012 US policy that places restrictions on ports of countries that "present significant risk of introducing instruments of terror into international maritime commerce".