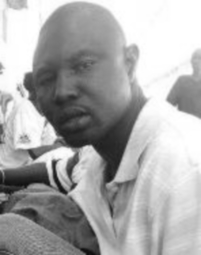 (JollofNews)- A mentally ill Gambian man who was shot dead during last December's armed attack at the presidential palace in Banjul was Sunday laid to rest at the Old Jeshwang cemetery.
Bakary Bojang, who is fondly called 'Gosso' was killed during a two-hour gun battle between State Guard soldiers and Diaspora based Gambian dissidents who stormed the fortified palace on 30th December 2014 in an attempt to overthrow the 20-year old regime of President Yahya Jammeh.
The dissidents who were armed with night-vision goggles, body armour and semi-automatic rifles bought at shops in the US, hidden beneath clothes and shipped in barrels to the Gambia said they were trying to "restore democracy to the Gambia and improve the lives of its people."
Believing they had up to 160 members of the local Gambian military on their side and that the president's guards wouldn't risk their lives to defend him, the dissidents "hoped they would be able to take over the country without having to kill" any Gambians.
But a gun battle erupted, an attempt to ram the front door using a rented vehicle failed and four members of group including Gasso were killed while one was captured.
The authorities have since refused to hand over the bodies of the men to their families for burial. Instead, their bodies were locked away in the mortuary of the country's main referral hospital, Edward Francis Small Teaching Hospital in Banjul, where they are kept under 24-hour armed guard.
The government had previously failed to acknowledge the death of Gasso.
However last Saturday night, his family received a message through the Major of Banjul asking them to collect his remains.
The body was eventually handed over to relatives on Sunday who held a solemn funeral for him at the Independence Drive mosque in Banjul.