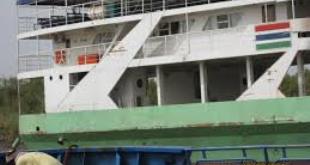 (JollofNews) – The management of The Gambia Ports Authority (GPA) on Sunday announced, that one of its ferries "Badibou" operating on the waters between Banjul and the town of Barra will be out of service for a period of six days beginning on Monday.
The ferry will be grounded for maintenance work until Saturday 12th September, the GPA said, adding that the move is to ensure a safer and more reliable service to thousands of commuters using the route on a daily basis.
Badibou has been in a serious state of disrepair, prompting the GPA to temporarily put it out of service until work is done to improve its state.
The GPA said its other fleet of ferries would be operating to prevent a disruption of its services on the trans-Gambia crossing point which links the north and south banks of the country.
Given the magnitude of the movement of people, goods and services on the route straddling settlements on both sides of the River Gambia, it is reputed as an important source of revenue for the country.
The waterway also serves as a link between the north and south of Senegal with thousands of people using it to access either side of the country on a daily basis.