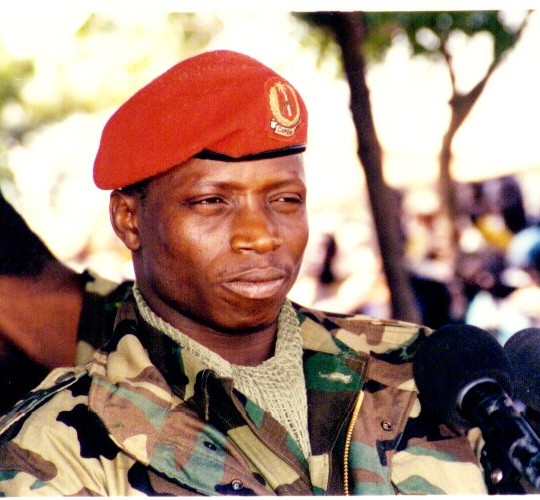 Unmasking The True Face Of Real Deception And Mistrust
(JollofNews) – Many Gambian soldiers have been killed by Yahya Jammeh since he came to power with help of the same army on 22 July 1994.
Family members of some slain soldiers have not been handed their dead bodies, thereby denying them decent burial in flagrant violation of ethics, highly cherished Gambian social values and religious requirements.
Slain Soldiers Dumped In Pit Latrine At Yundum Army Barracks
In what is seen by most people as a high level of cruelty, dead bodies of countless slain soldiers have also been dismembered and dumped in dug up ground toilet at Yundum Army Barracks according to eyewitness military insider accounts. Ironically, this is the same place where statute of Gambian soldiers killed in Liberia is erected under the instruction of junta leader Yahya Jammeh. From 1994, the year of the grand unlawful military invasion that dislodged a sitting elected government, a large number of Gambian soldiers have been subjected to severe torture and prolonged detention without due process of law.
Soldiers Fleeing In Risk Of Harm
Due to fear for their life and safety, many Gambian soldiers have fled the country and now realising their dreams of better life in countries outside the reach of the repressive hands of brutal dictatorship.
Over the course of time, some run-away soldiers resorted to reconciling with Dictator Yahya Jammeh. Their aim is to serve vested selfish interests or destroy junta leader Dictator Yahya Jammeh by getting closer to him as a way of taking revenge. This behaviour perfectly fits the saying "To defeat your enemies get close to them." Some people doubt if the dictator is aware of the schemes of returnees in plotting to eliminate him by getting closer inch by inch. These returnees now heap praises on Jammeh and try to make him believe that anyone who voices objection to blatant acts of brutality is his enemy. They are fooling him, just as he Jammeh is fooling soldiers on the ground.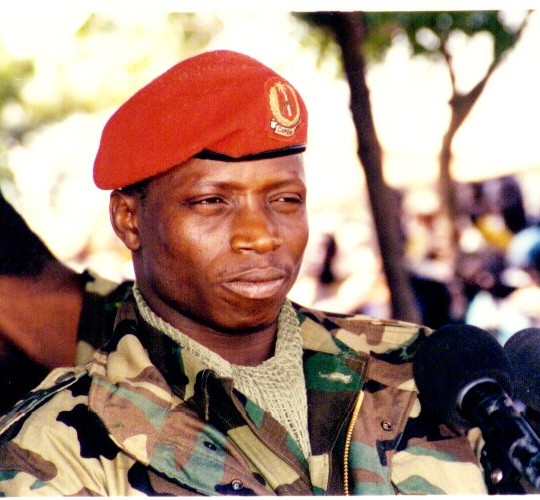 Junta Leader Promotes As Inducement For Loyalty
Yahya Jammeh is using Gambian soldiers for his personal security. He promotes and gives some of them undue privileges for ulterior motives. Without warning, soldiers are summarily dismissed or demoted to lower ranks just to be replaced by their close colleagues.
Promoted soldiers are subsequently dismissed. That is possible due to chronic suspicious environment and fear created as control mechanism. Military insiders will tell you how the game of head against head plays as elimination tactic.
Even those seen to be so loyal are not exempted from this induced fear of job loss and insecurity. Some soldiers and secret service agents have been sacrificed by being detained or killed. Others have disappeared without trace. The entire military outfit of The Gambia is committed to serve one person's interest- junta leader Yahya Jammeh.
Anyone is able to earn a high military title on the armed chair without needing to defend the nation from aggression, be that external or internal, as the relentless dictator rages on.
Sick And Injured Soldiers Are Helpless
Looking at the amount of money allocated for the military, you think that sick and injured soldiers have it all. It is shocking to know that the amount of health care and medical support given to Jammeh along members of his immediate by far exceeds what is given to all sick or injured soldiers combined.
The truth which lays bare for everyone to see is that junta leader Yahya Jammeh cares more about the welfare of his immediate family than that of the entire army outfit. While members of his family frequently receive overseas medical treatment, that is not what injured or sick soldiers enjoy.
More Money Spent On Military Gears Than The Welfare Of Army Personnel
All for the sake of protecting junta leader Yahya Jammeh, bulk of the money allocated for Gambian military is spent on materials and little on life sustaining requirements for soldiers. What that means in real terms is that Jammeh is quicker to replace guns than to cater for the welfare of soldiers.
Those who do not know inner politics and deception of the Gambian army well enough may assume all soldiers are enjoying. That is because you see them going up and down as though they are all satisfied. If military personnel were that satisfied, why is the junta leader Yahya Jammeh always worried that he may be toppled by coup?
Jammeh himself seized power by coup but now he is very much afraid to hear the word any more. He suspects everyone of plotting to overthrow his military dictatorial regime. There is complete mistrust even while on the surface Gambian general public has the impression that everyone in the army enjoys the promised good life.
Hence, it is an understatement to say that soldiers suffer more under Jammeh than any other group in Gambian society, contrary to the mistaken belief that they enjoy more.
Under the junta leader Yahya Jammeh numbers of army personnel have been wilfully killed by the regime that is meant to make their welfare and security top priority. It is beyond comparison between his 22 years misrule and former regimes. That takes account of colonialism and independence combined.

Patriotic Soldiers
Patriotic soldiers are republican; they side with the public, not with the leader. Especially when that leader is a dictator as obtains in Gambia under Yahya Jammeh. Those right-thinking soldiers know that national interest supersedes personal interest. To them, loyalty to the nation comes before allegiance to the junta leader Yahya Jammeh. They want better life for everyone in The Gambia and total freedom for all Gambians. They are not in uniform to defend the narrow interest of junta leader Yahya Jammeh or anyone else. They see the bigger picture of Gambia, and not little dots of individuals seeking personal interest.
Life Outside The Army
Not everyone in the Gambian army is thinking of toppling the regime of junta leader Yahya Jammeh. Highly skilled and disciplined members have bankable professional life outside the army. They are capable of fulfilling lofty dreams by competing for jobs matching their employable skills.
Some members of the army in The Gambia will not choose to dislodge a sitting government, though they know that is what junta leader Jammeh has done for the purpose of control over public resources in pursuit of his personal benefit.
It is evident that some members of the Gambia army can excel well enough after leaving the army. There are some retired army personnel doing well in technology, commerce, industry, academia, and other specialized professions.
Some of the good stocks of the Gambian army are useful assets to the nation. They serve as inspiration to those needing to cultivate other employable skills outside the army.
Drawing on the experience from high flying good members of the army who now excel in other pursuits, it will be wrong to assume that some intelligent and ambitious personnel will want to preserve a repressive dictatorial regime as if that is the only way of life they are destined for.
Military training instils certain types of discipline and work ethics that every other profession requires. Passing through the military is meant to serve as a platform of achievement for a more resourceful life outside the army. Not serving public interest after leaving the army can be a down side that makes someone seen as selfish and deceptive. There is real hope that intelligence and reasoning will overpower emotion and weakness. All right thinking persons have clear choice to make between being drivers, passengers, and excess baggage. Everyone decides with the best informed choice.