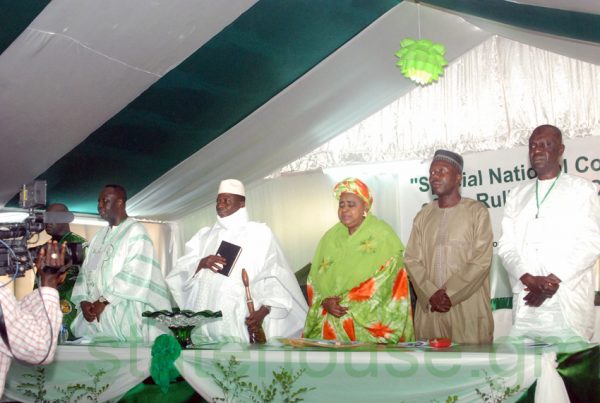 (JollofNews) – President Yahya Jammeh of the Gambia has renewed his promise to transform the small West Africa country into an economic superpower.
Mr Jammeh made this promise at the governing Alliance for Patriotic Reorientation and Construction (APRC) congress in Kanilai, where he was unanimously nominated as the party's flagbearer in the forth coming election.
The Gambia will hold presidential elections in December 2016, with legislative and local polls to follow in April 2017 and April 2018.
The tiny West African nation of less than two million people has been ruled by Yahya Jammeh since 1994, when the then 29-year-old seized power in a bloodless coup.
There is no constitutional term limit in the Gambia and since the return of the country to constitutional rule, President Jammeh has contested and won four elections. In 1996 he won 56 per cent of the votes, in 2001 he got 53 per cent of the votes, in 2006 he got 67 per cent of the votes and in 2011 he got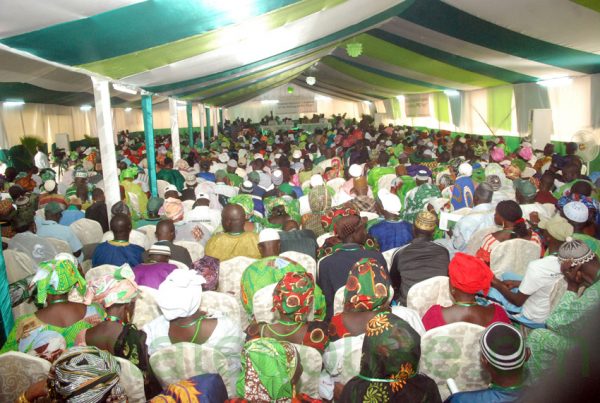 71 per cent of the votes.
Despite calls by his opponents and critics for him step down, Mr Jammeh said his unanimous selection by party delegates across the country was a clear testimony of the trust and confidence they have on him and his government.
Mr Jammeh said over the past years his regime has taken a strategic, visionary and proactive approach to develop the country and if given another five-year mandate, the Gambia will attain the economic super power status that it yearns for.
"You put your trust on me and I will put my everything, my destiny to work for you," he said.
"I will serve you with my sweat, I will serve you with my prayers and I am ready to serve you with my blood.With the Almighty Allah on our side and worshipping only Allah, APRC Government would make Gambia an example to the whole world."
Mr Jammeh added that in the coming years, his government will continue to pursue various development projects aimed at improving the livelihood of Gambians.
He added: "In the next five years even the remotest part of the country will have access to clean drinking water and electricity and by 2018, education would be free from kindergarten to university. By the grace of the Almighty Allah, the Gambia will say goodbye to poverty and starvation."
While calling on Gambians to unite and work together and to "do onto others as they would want others to do onto them," Mr Jammeh warned that his party would not compromise the peace and stability of the country nor will it condone evildoers especially those who cause chaos and civil unrest to get their leaders to step down.