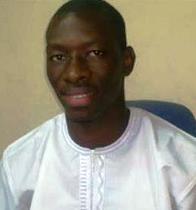 (JollofNews) – A Gambian journalist who is remanded in prison for sharing with friends working at the Office of the President, a picture showing a gun pointing towards President Yahya Jammeh and a comment purporting to make a threat of uprising against him has been hospitalised.
Alagi Abdoulie Ceesay of the independent radio station, Teranga FM, is receiving treatment at the Edward Francis Small Teaching Hospital in Banjul for an enlarged liver. He was said to have collapsed in pain in his prison cell on Sunday. He was first attended by the Prisons medical team, who later transferred him to the country's main referral hospital.
Mr Ceesay was first admitted in hospital on January 13th after he complained for over a month of stomach ache and difficulties in sleeping. During the examination, doctors diagnosed him with an enlarged liver and prescribed some tablets for the pain before sending him back to prison.
An application for him to be granted bail to seek medical treatment has been refused by a high court judge, who has vowed to continue with the case if he fails to show up in court in a forthnight.
Mr Ceesay was arrested and detained by the feared National Intelligence Agency (NIA) on 17th July 2015 before being charged in August with sedition and publication of false news.
Prosecutors said by sharing the material, which he did not originate and was already circulating on the internet, privately to his friends on mobile phone, Mr Ceesay had acted with seditious intention and the publication of false news with intent to cause fear and alarm to the public.
The Gambian law on sedition is a draconian law that gives authorities sweeping powers to arrest and imprison critics and goes beyond the legitimate restrictions on freedom of expression as defined under international law.