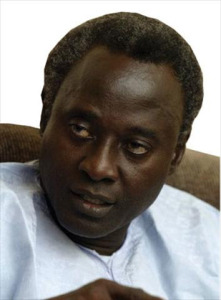 (JollofNews) – A Gambian opposition leader who will be contesting against President Yahya Jammeh in the December poll has survived a road traffic collision which left him with some injuries.
Halifa Sallah of the People's Democratic Organisation for Independence and Socialism (PDOIS), suffered a laceration in the left eye. He has since undergone a successful operation and can "now see very clearly".
Although the incident happened on 7th February 2016, the public only became aware of it last weekend when Mr Sallah told party supporters in Fass Chaho, North Bank Region, that 'he came closer to death but is alive and also came closer to blindness but could now see very clearly'.
A media statement from the PDOIS secretariat issued on Tuesday said the incident happened while Mr Sallah and some party members were on their way back from Sareh Ngai, Upper River Region, where they went to pay their respect to the family of the late Councillor Ebrima Menkeh Barrow.
"On their way back at Jappeni in Jarra on 7 February 2016, the PDOIS vehicle hit a cow resulting in Mr Sallah sustaining laceration in the left eye which has since undergone a successful operation," the party said.
Commenting on the incident, Mr Sallah, 63, said it has further emboldened him to continue serving the Gambian people 'without fear or favour affection or ill will'.