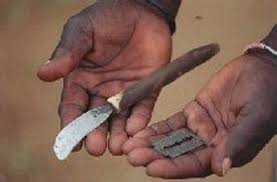 (JollofNews) – A Gambian nan who allegedly masterminded the fatal genital mutilation of her five-year-old grandchild has been remanded by a local magistrate in Banjul.
Sunkaru Darboe of Sankandi village, Kiang West, is said to have took Aminata Drammeh to a female circumsiser, Isatou Camara, who allegedly chopped off her clitoris. The baby suffered heavy lost of blood and later died.
Sunkaru was later arrested and detained together with the baby's mother, Saffiatou Darboe.
Outlining the case, Police Prosecutor Corporal Kora said on 27th February 2016, the grandmother and Saffiatou conspired to get the baby's genital mutilated. He added that the grandmother incited and promoted female circumcision when she took her grandchild to be mutilated.
He added that although Saffiatou was aware that her daughter was being subjected to genital mutilation, she failed to report it to the authorities.
Sunkaru Darboe and Saffiatou Darboe both rejected the allegations and were remanded in prison until Principal Magistrate Omar Cham determines their application for bail.
The case continues.
Female genital mutilation was traditionally carried out for hundred of years in the Gambia by older community women in unhygienic conditions and in isolated settings. It was justified and promoted in the Muslim dominated on religious and traditional grounds.
The practice involves cutting female genitalia – often when girls are young – to remove their labia and clitoris, which often leads to lifelong health complications, including bleeding, infections, vaginal pain and infertility.
Almost 80 per cent of women and girls have undergone FGM in Gambia, with the majority of female survivors claiming they were forced to undergo the procedure because their interpretation of Islam requires it.
But last December, the government decided to ban the practice on the grounds that it was harmful and not mandatory in Islam.
eople found guilty of performing the traditional practice could be sentenced to three years imprisonment or receive a D50,000 fine.