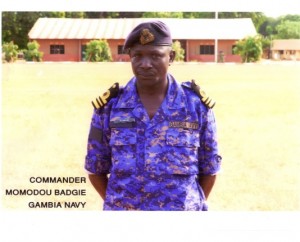 (JollofNews) – A Gambian naval officer who is declared wanted by the Gambian regime of President Yahya Jammeh has 'resurfaced' in neighbouring Senegal.
Lieutenant Commander Momodou Badgie, a  former administrative officer of the Gambia Navy,  is reported to have arrived in the Senegalese capital, Dakar,  a few days ago and is said to be staying with some friends.
Badgie is accused of misappropriating "substantial sums of money" belonging to the Gambia Armed Forces.
"This despicable action by the senior officer is a serious breach of the trust and responsibility vested in him" a statement by the Gambia Armed Forces said.
"Lt Commander Momodou Badgie is therefore a fugitive from justice and it should be noted that it is punishable by law to grant refuge to any known or unknown fugitive.
"Any information on the whereabouts of Lt Commander Momodou Badgie should be forwarded to the nearest police station, military barracks and or military police post."
A family friend of Badgie has told JollofNews that the senior officer has denies the allegations against him and have described them as ridiculous
"Badgie has told me that this is a conspiracy and a witch-hunt against him and he will clear his name when the time is right,"  the friend who preferred to remain anonymous said.