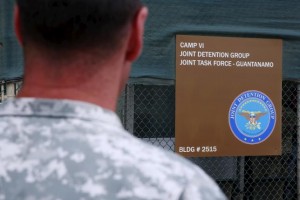 (JollofNews) – Two Libyans held for years at the U.S. military prison at Guantanamo Bay, Cuba, have been flown to Senegal for resettlement, the Pentagon said on Monday, the latest move in President Barack Obama's final push to close the facility.
The two men were the first of a group of about a dozen who are expected to be transferred in coming weeks to at least two countries that have agreed to take them, according to a U.S. official who spoke on condition of anonymity.
With the latest departures, there are now 89 prisoners at the U.S. naval base in Guantanamo. Most have been held without charge or trial for more than a decade, drawing international condemnation.
Obama, who in February presented Congress with a long-delayed plan for shuttering the prison, is seeking to make good on his long-time pledge before he leaves office in January. But he faces stiff opposition from many Republican lawmakers, as well as some fellow Democrats.
"We are taking all possible steps to reduce the detainee population at Guantanamo and to close the detention facility in a responsible manner that protects our national security," U.S. Secretary of State John Kerry said in a statement.
The Pentagon identified the two Libyans as Salem Abdu Salam Ghereby and Omar Khalif Mohammed Abu Baker Mahjour Umar.
They were among a group of prisoners, now numbering 35 following their departure, who have been cleared for transfer by a U.S. government inter-agency task force. U.S. officials have said they expect to move out all members of that group by this summer, sending them to their homelands or other countries.
Kerry thanked the Senegal government for accepting the two Libyans for "humanitarian resettlement." The United States has ruled out repatriating detainees to countries like Libya, which is locked in civil conflict and where militant Islamist groups are active.
Obama's blueprint for closing Guantanamo prison calls for bringing several dozen remaining prisoners to maximum-security prison in the United States. U.S. law bars such transfers to the mainland, and Obama has not ruled out doing so by use of executive action.
The most prominent of those to be resettled over the next several weeks is Tariq Bah Odah, a 37-year-old Yemeni on a long-term hunger strike. He has been force-fed by nasal tube since he stopped eating solid food in 2007.
His weight had dropped to 74 pounds from 148 and his legal team feared he could die of starvation, according to a Reuters at the end of December.
The transfers to Senegal were the second to Africa in recent months. Two Yemeni detainees were sent to Ghana in January. Others were sent recently sent to Oman, Bosnia and Montenegro.
Guantanamo prisoners were rounded up overseas when the United States became embroiled in wars in Iraq and Afghanistan following the Sept. 11, 2001, attacks on New York and Washington. The facility, opened by Obama's predecessor George W. Bush, came to symbolize aggressive detention practices that opened the United States to accusations of torture.
(Reporting By Matt Spetalnick; Editing by Chizu Nomiyama and Bill Trott)