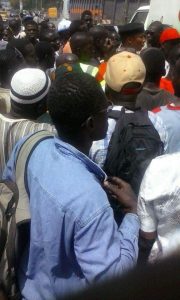 (JollofNews) – Life is returning to normal in the Westfield area of Gambia's largest town, Serrekunda, after a brief but peaceful anti-government protest was quelled by security forces.
A group of protesters mainly young men held a spontaneous protest Thursday afternoon at the busy Westfield junction some 12 kilometres away from the capital, Banjul.
According to eye-witness account, the protesters who were chanting anti-government slogan, demanded electoral reform and the resignation of President Yahya Jammeh before they were surrounded by security officers.
Over a dozen protesters were nicked and are currently held at various police stations.
The Gambia will hold presidential elections in December 2016, with legislative and local polls to follow in April 2017 and April 2018.
The tiny West African nation of less than two million people has been ruled by Yahya Jammeh since 1994, when the then 29-year-old seized power in a bloodless coup.
President Yahya Jammeh is currently attending the 13th Heads of States Summit of the Organisation of Islamic Cooperation (OIC) in, Istanbul, Turkey.
This is the first anti-government protest in the peaceful West African nation since the April 2000 student unrest.
Although the Gambian constitution and law provide for freedom of assembly; Gambian police systematically refused requests for permission to hold demonstrations, even peaceful ones.