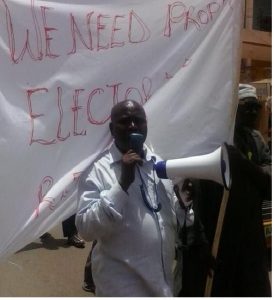 (JollofNews) – Thursday's brief but peaceful anti-government protest that was held at the Westfield junction, Serrekunda, was organised by the youth mobiliser of the Gambia's main opposition United Democratic Party (UDP) and his associates, sources confirmed to JollofNews.
Ebrima Solo Sandeng, who is currently in detention, is said to have conspired with other youths to take to the street in demand of electoral reform and the resignation of President Yahya Jammeh.
Eye-witnesses said the protesters arrived at the busy Westfield junction some 12 kilometres away from the capital, Banjul, during the afternoon rush hour and displayed a banner with the slogan "We NeedProper Electoral Reform".
However soon after the protest began, a contingent of security officers arrived and arrested Mr Sandeng and his associates at the scene.
They are currently detained at various police station.
There has been no comment from the leadership of the UDP.
THE PROTESTERS AT WESTFIELD JUNCTION
Meanwhile, an opposition leader in the Gambia has warned against the torture of the detained protesters.
Mai Ahmed Fatty, leader of the Gambia Moral Congress (GMC), said inflicting torture on the protesters will be regrettable by the government.
"The right to peaceful protest is non-negotiable," he said.
"Lawful action in support of constitutional and statutory reforms is an inalienable right. Heavy-handedness may produce serial repercussion that may not be contained."