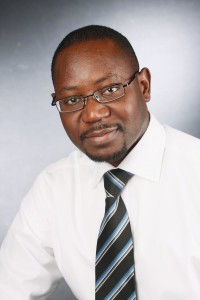 (JollofNews) – The Gambia Moral Congress Party (GMC) has become the first opposition party in the Gambia to openly throw its weight behind the sympathisers of the United Democratic Party (UDP), who were nicked yesterday for staging an anti-government protest.
Over a dozen protesters mainly from the UDP including the party's national organising secretary, Ebrima Solo Sandeng, his deputy,  Lang Marong  and youth wing female president, Fatoumatta Jawara, are currently detained after they took to the streets.
The protesters on Thursday arrived at the busy Westfield junction some 12 kilometres away from the capital, Banjul, during the afternoon rush hour and displayed a banner with the slogan:  "We Need Proper Electoral Reform".
They also chanted anti-government slogan and demanded the resignation of President Yahya Jammeh.
However, soon after the protest began, a contingent of security officers arrived at the scene, nicked the demonstrators and restored order.
But while the UDP is yet to comment on the incident, the Gambia Moral Congress party said it support the right to peaceful protest as enshrined in the Constitution of the Gambia and all legitimate efforts regarding electoral reforms.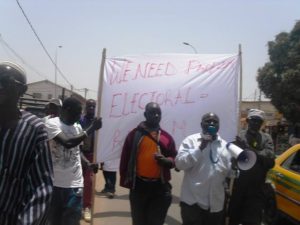 "All conscientious Gambians, not just the opposition, have a moral obligation to support any and all legitimate efforts regarding electoral reforms," said Mai Ahmed Fatty, leader of the GMC
"Efforts to expand the democratic space is not a partisan issue but a matter of fundamental national demand. Those who take the lead in advancing this effort in a legitimate and peaceful manner, are the true partners for electoral reforms, and should be embraced by all peace-loving Gambians. Those who resist such initiatives would not muster the marauding tide of inevitable change for long."
The GMC added that while it regrets that other sister opposition parties were not consulted for  them to take coordinated actions, which would have produced profitable dividend, it will not jettison its comrades in the battle field.
It stated: "The quest for electoral reforms is a fundamental national requirement. We must stay focused, united by our common resolve and our common destiny."
Although the right to peaceful protest is recognised under Section 25 of the Gambian constitution as well as international human rights treaties ratified by the Gambia, the country's criminal laws requires people to obtain permit from the Inspector General of Police before taking to the street.
However, over the years, police have systematically refused requests for permission to hold demonstrations, including  peaceful ones. Police have also occasionally refused to issue permits to opposition parties wishing to hold political rallies.
So far, calm has returned to the streets of the country and pleas by Gambian activists in the diaspora for a nationwide anti-government protest in the country today have been ignored and people are going about their daily businesses.