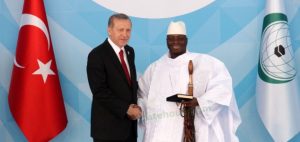 (JollofNews) – Muslim countries have agreed to work together more closely to fight terrorism and other crimes and will establish an Istanbul-based centre for greater police cooperation, President Tayyip Erdogan said on Thursday.
Leaders from the Muslim world are attending a summit in Istanbul this week of the Organisation of Islamic Cooperation (OIC) to discuss issues facing the grouping's 57 member states, including the humanitarian fall-out from Syria's civil war.
"It would be appropriate to create a structure among OIC countries which would strengthen and institutionalise cooperation against terror and other crimes," Erdogan said in his opening address at the summit.
"With this in mind, our proposal for the establishment of an OIC police cooperation and coordination centre based in Istanbul found acceptance." Erdogan, whose country is set to take over the three-year rotating presidency of the OIC, gave no details about the new police centre or say when it might start work.
Turkey has long pressed for closer regional cooperation in tackling terrorism
as its army and security forces battle Kurdish militants t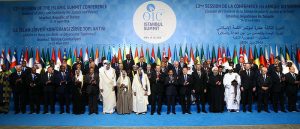 hat Ankara and its Western allies classify as terrorists.
Turkey is part of the US-led coalition against the militant Islamic State (IS) in neighbouring Syria and is also a vocal opponent of Syrian President Bashar al-Assad, a stance that has put it at odds with Assad's ally, Iran.
On Thursday Erdogan called for greater unity among Muslim countries.
"The more that we as Muslims, as Muslim countries, fall out with each other, the more the innocents who have put their hopes in us will be exposed to strife," he said.
Also speaking at the summit, Iranian President Hassan Rouhani spoke out against divisions among Muslims. Shia Iran is at loggerheads with Sunni Muslim powers including Saudi Arabia in Yemen as well as in Syria.
"No message which would fuel division in the Islamic community should come out of the conference," Rouhani told the conference, according to Iranian state television.
Courtesy of Dawn