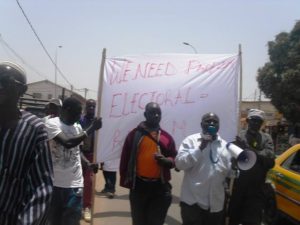 (JollofNews) – Human rights groups voiced concern on Friday over arrests in Gambia after a rare public demonstration in the West African nation, where President Yahya Jammeh has come under regular criticism for his increasingly authoritarian rule.
Jammeh, a former soldier who seized power in a bloodless coup in 1994, has made headlines for eccentric proclamations, including a claim to have invented a cure for HIV/AIDS and his recent surprise decision to make Gambia an Islamic republic.
But he has also come under fire from rights groups and foreign governments for employing strong-arm tactics to stamp out political dissent, making Thursday's small protest particularly noteworthy.
A small group of demonstrators waving banners with slogans including "We need electoral reforms and freedom of speech" gathered in Serekunda, just outside the capital Banjul, before their rally was broken up by security forces.
Jammeh, who expected to extend his rule in elections planned for December, was in Istanbul attending a summit of Islamic countries at the time.
Police sources said a number of people, including Solo Sandenga, a prominent youth leader from the main opposition United Democratic Party (UDP), were arrested and that an investigation was being carried out.
Seydou Gassama, the head of Amnesty International in Senegal, said the government's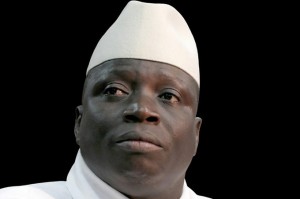 response was worrying.
"We are very concerned by the violent and disproportionate reaction of authorities in Gambia against a group of people who were protesting peacefully … President Jammeh could see this as an attempt to destabilise his regime," he said.
A failed attempt to depose Jammeh orchestrated by Gambians living abroad led to a wave of arrests last year.
The government was quick to downplay Thursday's protest.
"A few agitators wanted to cause a breach of the peace and public order but they were reined in by the able security forces … There is no need for alarm," government spokesman Sheriff Bojang told Gambia's the Standard Newspaper.
Jammeh once told a reporter he could rule Gambia, a tiny sliver of a country surrounded by Senegal and home to 2 million people, for "a billion years".
He has scrapped term limits from the constitution, and the regional bloc ECOWAS refused to send observers to the last elections in 2011, citing intimidation of the opposition and the electorate.
Jeffrey Smith, an international human rights consultant who works closely with Gambian activists, said he'd received reports of mass arrests and alleged torture of protest organisers by the National Intelligence Agency in the wake of the demonstration.
However, he said that growing discontent could fuel further protests in the run-up to the polls.
I think Gambia's political opposition and civil society, or at least what's left of them, are spoiling for a fight ahead of December's election … There's a reason why he has rarely travelled outside the country over the past year."