We will be updating this story live as events unfold. Please follow at the bottom of this page.
(JollofNews) –  JollofNews have just been informed of an ongoing opposition protest in the Gambia against the government of President Yahya Jammeh.
The protest, which is organised by the main opposition United Democratic Party (UDP) is said to be in reaction to Thursday's arrest and detention of over a dozen of its members at the Westfield Junction by security officers.
There have been unconfirmed reports on Facebook that two of the detainees, Solo Sandeng, national organizing secretary and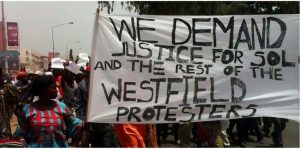 Fatoumatta Jawara,  youth wing female president have been tortured and killed in detention.
This has not been officially confirmed by the UDP.
The protesters including UDP leader, Ousainou Darboe and other senior party executives, are said to be marching along the Kairaba Avenue area (Pipe Line) and  are demanding justice for their arrested colleagues.
Reports said the protesters were met by a contingent of riot police who fired tear gas at them. The UDP leader, Lamin Dibba, senior administrative secretary and other senior party officials are reported to have been arrested and are currently held at undisclosed security post.
The protesters have so far dispersed but reports said they are reconverging around the Westfield Junction.

Meanwhile Amnesty International has called on the Gambian regime to immediately investigate Mr Sandeng's death and release all other peaceful protesters who have been detained.
"The tragic death in detention of Solo Sandeng must leave no space for impunity. The authorities must conduct an immediate, thorough and independent investigation," said Sabrina Mahtani, Amnesty International West Africa researcher.
"Gambia must uphold the rights to freedom of expression and peaceful assembly, especially in advance of the elections. All of the peaceful protestors arrested by the authorities should be immediately and unconditionally released. Any who are injured must receive urgent medical treatment."