(JollofNews) – The Gambia's main opposition United Democratic Party (UDP) has issued an urgent appeal for help to the international community in the face of a government crackdown on its leadership.
The party's leader, Ousainou Darboe and at least six other executive members have been arrested and whisked away to an unknown destination on Saturday afternoon after they took to the streets to seek justice for their colleagues who were arrested on Thursday an allegedly tortured by security officers.
Several other demonstrators were severely wounded when security forces led by officers from the State Guards allegedly fired live ammunition on the crowd.
"Today's peaceful march was triggered by the arrest and detention of about 25 Gambian youths who were out in the streets peacefully demanding electoral reforms," the party said in a media statement.
"Apparently, seven of those arrested were youth members of the UDP executive. They were brutally tortured and so far the UDP can confirm that three of its seven young executive members have died in state custody following two days of continued brutal torture meted out to them."
The opposition party added: "The UDP crowd was on its way to the police station that arrested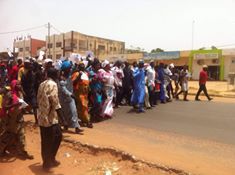 the youths on Thursday to demand for their release when the security forces descended on the peaceful marchers.
"The UDP vehemently condemns this barbaric act of savagery by the security forces. We wholly blame the head of state and commander-in-chief of the Armed Forces, Yahya Jammeh, of whatever might happen to our executive and other youth leaders in custody now for three days."
The opposition party said it is deeply worried about the continuous silence of the international community at a time when the Gambian leader, Yahya Jammeh, has put in place mechanisms to not only entrench himself in power by constricting the democratic space but also using all illegal means and the full force of the security forces to visit terror on defenceless Gambians.
"The UDP and indeed all the other Gambian opposition parties are not demanding anything other than a free, fair and credible electoral process. And we shall not relent in this demand. Gambia cannot be an island where its leaders perpetuate self-rule through fraudulent and sham elections," the party said.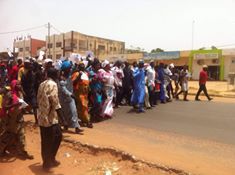 "We are notifying the international community and indeed member countries of ECOWAS and AU of this ongoing crackdown on the UDP. This is a threat made good by the President who has repeatedly and openly stated his preparedness to do everything to stay in power even if it means spilling innocent blood.
"President Jammeh has all along wanted to make the Gambia a one party state but this dream has not been fulfilled because of the uncompromised position of the combined opposition against the idea. We will not compromise our rights to engage in party politics. And we will not give in to threats from any quarters.
"We are calling on all UDP militants across the country to remain vigilant. Peaceful demonstration is a right guaranteed under the constitution of The Gambia and this should not be compromised. The authorities can arrest the entire executive of the UDP but they cannot break our determined will to a Gambia where democracy prevails."