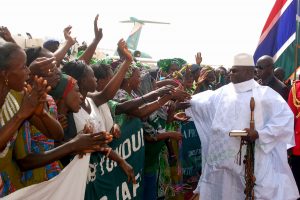 (JollofNews) – Thousands of supporters of the Gambia's governing Alliance for Patriotic Reorientation and Construction (APRC) Sunday gave a rousing welcome to President Yahya Jammeh after his return from Turkey where he attended the 13 heads of states summit of the Organisation of Islamic Cooperation (OIC).
Mr Jammeh's supporters  lined up the streets of the Greater Banjul Area to cheer and wave at his convoy as it made its way to the country's capital, Banjul.
On arrival in the capital, reports said Mr Jammeh was greated by a large crowd of jubilant supporters who escorted his convoy to the State House.
Mr Jammeh returned to the Gambia a day after his government launched a crackdown on the main opposition United Democratic Party (UDP).
The UDP's leader, Ousainou  Darboe and other party executive members were arrested Saturday following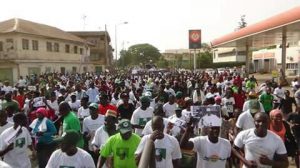 a second round of demonstrations in the country, with supporters demanding answers over the death in custody of a senior party figure.
The security forces armed with assault rifles fired tear gas at the protesters, according to UDP officials.
Around 150 supporters had joined Mr Darboe to call for justice in the case of UDP organising secretary Solo Sandeng, who died in custody on Thursday, according to his party and the Amnesty International rights group.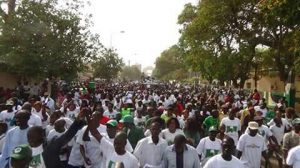 Mr Sandeng had led a protest which ended with Gambian security forces beating and arresting dozens for making a public call for electoral reform and the resignation of  President Yahya Jammeh.
Despite calls by diaspora Gambians for a civil uprising against the regime, calm has returned to the streets of Banjul.
No state of emergency has been imposed and  people are going about their daily businesses.
Mr Jammeh was greeted on arrival at the Banjul International Airport by government ministers and his party supporters.
Meanwhile, Mr Jammeh is expected to make a televised address to the nation tomorrow evening. There are also reports that some youth groups across the country are planning to stage a solidarity march in Banjul.