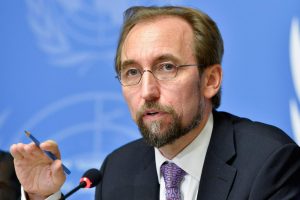 (JollofNews) – United Nation's high ccmmissioner for Human Rights today called on the Gambian regime of President Yahya Jammeh to launch an urgent investigation into the unexplained death of Ebrima Solo Sandeng.
Mr Sandeng, national organising secretary of the main opposition United Democratic Party (UDP) was nicked on Thursday afternoon by security officers after he led a 'unauthorised' street protest  at the busy Westfield junction some 12 kilometres away from the capital, Banjul, and displayed a banner with the slogan:  "We Need Proper Electoral Reform".
Barely 24 hours after his arrest, it was reported that he was tortured and murdered by state security agents.
The Gambia government has so far refused to comment.
But Zeid Ra'ad Al Hussein, United Nation's high ccmmissioner for Human Rights said:
"The death in State custody of an opposition leader, Solo Sandeng, is deeply disturbing and I urge the authorities in The Gambia to ensure that it is immediately subjected to an independent and thorough investigation, and that the perpetrators are brought to justice.
"There are also reports that two other members of the opposition died in State custody on Thursday after they were arrested during a protest rally in Banjul. Some others who were detained the same day are reportedly suffering from serious injuries. I remind the authorities of their obligation to ensure that these individuals receive prompt medical attention, and that all the people of The Gambia are free from torture and ill treatment.
"The death of Mr Sandeng has brought into stark focus the worrying pre-electoral environment in the Gambia, with reports of forceful suppression of peaceful demonstrations and the arrest and ill treatment of numerous protestors and members of the opposition.
"Respect for the rights to freedom of peaceful assembly and expression are particularly indispensible in a pre-electoral context, and the Gambian authorities have a duty to ensure that the conduct of security forces during protests is strictly in line with international human rights standards.  Any allegation of the use of excessive force must be independently investigated."
Meanwhile UDP leader Ousainou Darboe and other senior party officials wo were arrested on Saturday after they took to the street to demand justice for Solo Sandeng and other detained supporters, remain in state custody.