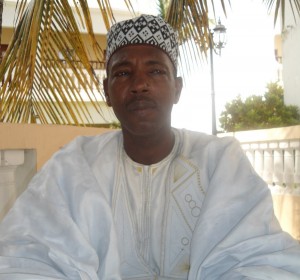 (JollofNews) – An opposition leader in the Gambia has renewed calls for civility in politics amid a government crackdown on the main opposition United Democratic Party (UDP), which he said has seriously heated the country's political discourse
Hamat Bah, leader of the National Reconciliation Party (NRP) said the Gambia is at a point where political leaders need to look forward to what is in the overall interest of the Gambian people.
"It is the responsibility of all Gambians, particularly those in positions of leadership, to make sure that they bring down the polity to a level that we can continue to do our job freely, fairly, honestly and sincerely" he told the independent Point Newspaper.
Mr Bah said the government crackdown on the UDP has poisoned the political situation in the country and has also put the West African nation on an edge.
He said the arrest and continuous detention without charge of the UDP leader, Ousainou Darboe and his supporters is not helping the situation and he urged the government to free them immediately and unconditionally.
The former National Assembly member for Upper Saloum added: "I believe that the arrest of Ousainou Darboe and other executive members is not helping the situation either and it is, therefore, important that we as Gambians must understand that no matter what differences we have, the issue of killing, the issue of death should not be on anybody's mind.
"We can quarrel, we can fight, but to the extent of people dying. I do not think that is helping anyone of us, because the Gambia is greater than all of us together.
"If the allegation of death is true, there must be an immediate enquiry to determine the cause of death and, if anybody is found wanting, they should be brought before a court of law."