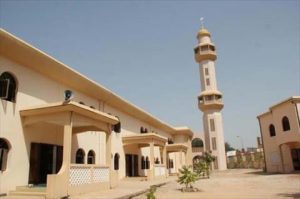 (JollofNews) – The Islamic Dawah Organisation has launched 32 humanitarian projects in the Gambia funded by Qatari philanthropists at a total cost of 1.3 million Qatari riyal.
The implementation of these projects is part of the organisation's plans for 2016 in 42 African countries.
Director General of Qatar's office of the organisation, Shaikh Hammad Abdulqader al-Shaikh, said that the projects include the construction of 26 mosques, each of which will accommodate more than 350 worshipers.
The projects also include the drilling of five water wells in the areas that suffer from water scarcity, as well as the implementation of income-generating schemes for poor families.
In a press statement, al-Shaikh said he had been briefed during his recent visit to the Gambia on the needs of the poor people and he followed up the projects funded by Qatari philanthropists.
He noted that there is an urgent need to provide clean water sources, health institutions and Islamic education institutions, stressing that a lot of families in this country are in dire need of income-generating projects.
He praised the Qatari philanthropists who have donated for these projects in the Gambia and other African, Arab and Islamic countries.
Source: Gulf Times