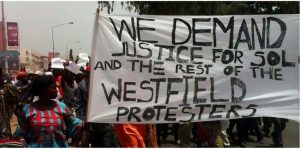 (JollofNews) – Updated: Detained members of the opposition United Democratic Party (UDP) are appearing at the Banjul High Court where they have been indicted with various criminal offences.
The opposition members were arrested last Thursday and Saturday for taking part in a demonstration against the regime of President Yahya Jammeh.
The Gambia government has defended the crackdown on the UDP, which it blamed for taking part in an illegal assembly.
NB: We will be updating this page live  as more information comes in.
This live update is now closed for details on this event, go here.