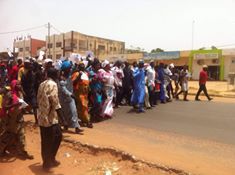 (Jollofnews) Authorities in the Gambia have released over 15 supporters of the main opposition United Democratic Party (UDP) who were arrested last Thursday and Saturday.
The names of those released have not been disclosed to the media, but it is believed that they are non-executive members of the party who were not directly involved with organising the last week's protest against the regime of President Yahya Jammeh.
Last week, the Gambian regime launched  a crackdown on the leadership of the main opposition United Democratic Party (UDP) and arrested its leader, Ousainou Darboe and senior party executive members.
They were arrested after two days of rare anti-government demonstrations in the peaceful West African nation.
The second demonstration which resulted in the arrest of the UDP leader was triggered by unconfirmed reports that the party's organising secretary Solo Sandeng, who was arrested a few days earlier for taking to the streets had died in custody.
Mr Sandeng had led a protest which ended with Gambian security forces beating and arresting
dozens for making a public call for electoral reform and the resignation of  President Yahya Jammeh.
The Gambian government has defended the arrest of the UDP leadership and supporters.
Sheriff Bojang, Information minister said he knows nothing about anyone being killed. But he said opposition leader Darboe and his "cohorts" broke Gambian law by holding a demonstration without permission from the police.
In an interview with VOA, Mr Bojang said: "Mr. Darboe is veteran lawyer and he's quite an informed that in the Gambia just like in every other country there is something called the Public Order Act which forbids procession, street protests, meetings, and so forth without first seeking and being granted permission by the police.
"But he and his cohorts decided to completely flout that law, and in the Gambia, just like in any other country, there acts and reactions; there causes and effects. So, I don't they have anyone to blame for their dispersal and subsequent arrests," he said.