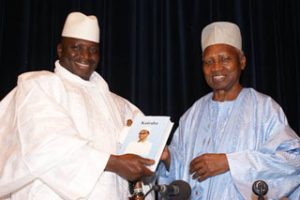 (JollofNews) Former Gambian president, Sir Dawda Kairaba Jawara is alive and kicking, your JollofNews can confirmed.
Earlier this afternoon, the online Freedom Newspaper reported that the elder statesman has died, citing an unnamed source in Senegal.
But this paper can confirmed that Mr Jawara, who will be 92 next month is not only alive, but living happily and healthily with his family.
We can also confirm that Mr Jawara's newphew, Kaba Jawara ,has passed away today.
Mr Jawara was the first leader of the Gambia, serving first as Prime Minister from 1962 to 1970 and then as President from 1970 to 1994.
After the overthrow of his regime by current President Yahya Jammeh in July 1994, Sir Dawda first lived in exile in the UK before returning to Banjul in 2001 after being granted amnesty by Mr Jammeh.
This is the second time his dead is being wrongly reported in some online Gambian papers.