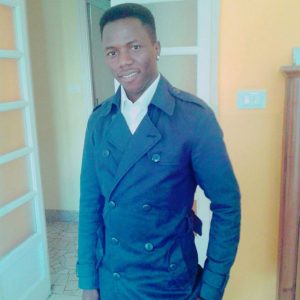 (JollofNews) A 21-year-old Gambian  man in Italy  is thankful to be alive after a bullet was put through his head by an Italian gangster.
Yusupha Suso was shot through the head in a 'hit' by Emanuele Rubino, 28,  earlier this month in Palermo, Italy after an argument between local youths and some African migrants.
The shooting, captured on CCTV, followed a row between Mr Suso, his pals and the ganster who is alleged to have said "soon you will see".
It is alleged local mobster Rubino, then chased Mr Suso into a side street and shot him in the head. He was rushed to a local hospital where he was put in an induced coma for a few days.
Speaking for the  first time about the incident, Mr Suso said he was not angry about the shooting and is thankful to have his life back.
"I'm not feeling angry, I'm just feeling good to have my life. When I go out of the hospital it will be like the first day of my life."
Mr Rubino is currently in prison after he was arrested and charged with attempted murder.
It is believed that  Mr Suso's shooting is part of an ongoing war between the Italian Mafia and African migrants.
When Mr Rubino  was transported from the police station to prison, members of his family gathered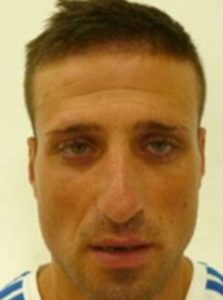 and applauded – an established Mafia tradition in Sicily.
His neighbour Giovanni Zinna, 46, said: "He and his friends have no knowledge of life outside Palermo, so they are obsessed with gaining power in the city.
"This is their culture. It is the beginning of a war between the Mafia and the migrants. It is going to get worse. I am scared. There will be more migrants, more friction, more attacks. This was the first shooting, but it won't be the last."
Immigration to Italy has gone up 90 per cent in the first three months of the year.
The deadly war began when African criminal gangs apparently entered the country alongside law-abiding migrants, and started to operate 'on the Mafia's doorstep'.
Commenting on the incident, the police commissioner of Palermo, Guido Longo, said: "We are facing acts of unprecedented aggression and bullying [against migrants] with typically Mafioso attitudes. There is a will to impose their rule on the territory."
The mayor of the city, Leoluca Orlando added: 'Palermo is no longer an Italian town. It is no longer European. You can walk in the city and feel like you're in Istanbul or Beirut.'
"The Mafia has not understood that the city has changed. We are now a city of immigrants, and the Mafia bosses no longer sit in the mayor's chair. This Mafia shooting was a tremendous mistake because it turned the city against them."