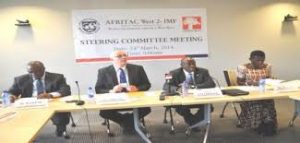 (JollofNews) – The African Regional Technical Assistance Centre (AFRITAC West 2) Tuesday held its fourth steering committee meeting in the Gambia to assess the centre's operations over the past year and discuss next year's plans.
The centre is a collaborative effort between the International Monetary Fund (IMF) and several bilateral and multilateral donors aimed at providing technical advice in core macroeconomic and financial management areas and provides technical assistance and training to Ghana, Nigeria, Sierra Leone, Liberia, the Gambia and Cape Verde.
During the meeting, the committee discussed strategic issues, including the centre's contribution to furthering the sustainable development goals. Officials from AFW2 member countries attended, together with development partner representatives— the European Union, Switzerland, Canada—and IMF staff.
Participants reaffirmed the important role of AFRITAC West 2 in assisting member countries to strengthen economic institutions and their capacity for implementing sound economic policies. They highlighted the impact of technical assistance and training provided by the centre as a basis for better economic policy decision-making.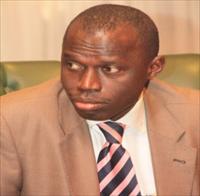 Abdou Kolley, minister of Finance and Economic Affairs for the Gambia, chaired the meeting and welcomed the scaling-up in the centre's operations over the past year to build institutional and human capacity in the region, including strengthening member countries' resilience to address economic vulnerabilities.
The Minister praised the centre's use of innovative and flexible modes of delivering technical assistance.
"Such flexibility and innovation are necessary to ensure that capacity development is well-tailored to meet the varying needs of member countries" he noted.
He also commended the collaboration between the centre and the regional institutions (ECOWAS, WAMI and WAIFEM) which participated in the meeting.
The centre's coordinator, Lamin Leigh, summarised the progress made in the past year, highlighting a number of success stories in the centre's capacity building work in the sub-region, including with the Gambia Revenue Authority.
On the centre's priorities for the coming year, Mr Leigh noted that the will continue to support member countries in all its core areas of expertise, with additional emphasis on public financial management and revenue mobilisation, including a scaling up of capacity development activities in Liberia and Sierra Leone.
The steering committee was pleased with the progress made by AFRITAC West 2 in the past fiscal year, approved the work program for the 2017 fiscal year and urged the centre to do more on improving its execution going forward.
Development partners also commented on the strategic priorities and expectations for the centre, including in relation to the sustainable development goals. The steering committee members stressed the need for greater collaboration with regional institutions, including ECOWAS, and in that context highlighted the important role that AFW2 could play in regional integration. Committee members also agreed on the need to enhance the quality of macroeconomic statistics for better policymaking.