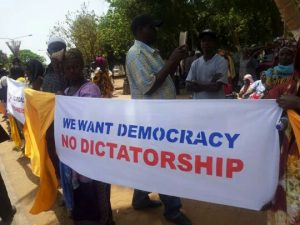 (JollofNews) – State prosecutors in the Gambia have filed criminal charges against seven more supporters of the opposition United Democratic Party (UDP) who were nicked last month for taking part in anti-government protest.
Nogoi Njie, Fatoumatta Camara, Fatoumatta Jawara, Kafu Bayo, Ebrima Jabang, Kalilu Saidykhan and Modou Ngum were dragged to court on Wednesday and  charged with multiple counts of criminal offences.
The UDP supporters who have been held incommunicado since their arrest on 14th and 16 April 2016, are accused of conspiring to commit felony, unlawful assembly, riot, incitement of violence, riotously interfering with traffic, holding a procession without a license and disobeying an order to disperse from an unlawful procession.
They pleaded not guilty to all charges.
The accused persons were remanded in custody pending the determination of their bail application.
19 other opposition members including the party's leader, Ousainou Darboe are currently on remand after they were charged with similar offences.