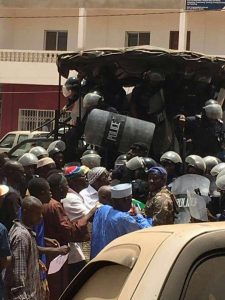 (JollofNews) – A special criminal court in the Gambia Thursday dismissed the bail application made by lawyers representing 26 members of the opposition United Democratic Party (UDP), who were nicked last month for taking part in an 'unauthorised' protest against the regime of President Yahya Jammeh.
The opposition supporters who are currently held at Mile Two Prisons, are slapped with multiple criminal offences including conspiring to commit felony, unlawful assembly, riot, incitement of violence, riotously interfering with traffic, holding a procession without a license and disobeying an order to disperse from an unlawful procession.
They pleaded not guilty to the charges and their lawyers have spent the past two weeks pleading with the court to grant them bail pending the determination of the case.
But the presiding judge, Justice Ottaba said their application lacked merit and has failed to address the concerns of the prosecution.
The judge added: "In exercising its discretional powers in considering  bail, the court must look at so many factors  such as the applicants likelihood to jump  bail, the security of the nation and whether the applicants will repeat the same acts if granted bail as well as the seriousness
of the offence and the severity of the punishment."
Justice Ottaba said he had carefully looked at the arguments made by the defence lawyers and the state regarding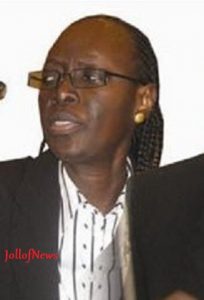 the bail issue, and he is satisfied that the bail application made by the defence team lacks merit and is therefore dismissed.
Meanwhile, one of the lawyers defending the accused, Hawa Sisay-Sabally, called on the court to refer two of the counts which the applicants have been charged with to the supreme court for determination.
She said although the applicants are charged with holding a procession without a permit and disobeying an order to disperse from an unlawful procession under  the Public Order Act, the constitutional court [Supreme Court of the Gambia] should be asked to determined whether any law was made excess of the power.
The former Attorney General and minister of Justice added: "The Public Order Act was introduced in 1961 by the British colonial administration and I refer your lordship to sections 4 and 5 of the 1997 Constitution of the Gambia, which states that 'all citizens of the Gambia has right to defend the constitution' and it is that reason we submit that count 5 and 6 be referred to the Supreme Court.
"We are not asking for a stay of proceeding, rather we are applying for these two counts to be referred to the Supreme Court as this court lacks jurisdiction to try those counts.
The case continues.