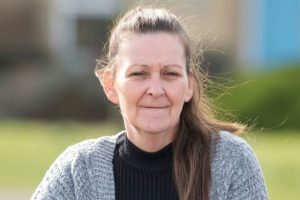 (JollofNews) – Watching a troupe of African dancers perform against the backdrop of a stunning beach sunset, Deborah Winfield's life was about to change dramatically.
The divorced gran-of-eight had caught the eye of the A-Team's lead dancer David Tarawallie while on an exotic trip to the Gambia. He later made a beeline for her.
Aged just 33 he was almost two decades Deborah's junior. She says: "I had been single for nine years and was hugely flattered that someone as young and attractive as David was paying me attention.
"Having so many compliments from a man 20 years younger wasn't something I was used to. It was nice to feel that fizz of excitement and attraction again."
The pair, who met on the first day of Deborah's week-long break, hit it off so well they spent the rest of her trip getting to know each other. But she felt sure they were enjoying nothing more than a holiday romance . Deborah, 54, says: "We had a wonderful time.
And I laughed off David's declarations of love, thinking it was just going to be a silly holiday romance and he'd forget all about me when I got home. I was sure he'd find someone younger and hotter as soon as I left."
When it was time to return home to Swindon, Wilts, after the trip in December 2010, David wept and once again confessed his love for her.
But the strong feelings she had for him also took her by surprise. She says: "I couldn't believe how attached I was after only a few days. We promised to keep in touch and I booked another trip to Africa for a few months later."
At home, Deborah was in constant contact with David via text. But as her next visit drew closer, he started panicking about where they would stay as he lived in shared ­lodgings.
Deborah adds: "He asked me for money to rent a house for us. I said I'd be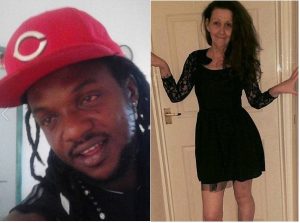 happy to pay for a hotel but he insisted and I loved him so went along with it. I didn't like the idea of him being in lodgings."
Deborah started sending her lover £400 a month for the rent and stayed with him at the house in the coastal town of Serrekunda whenever she visited over the next three years.
During one of her five trips she met his brother Issa, then a 22-year-old ­professional footballer in the country.
She says: "Issa was so easy to talk to and such a caring guy. He was so open with me. I'd been worried David was hiding things from me and Issa's openness ­highlighted that.
Sometimes he would be really hard to get hold of, it was like he'd ­disappeared off the grid when I returned to England. Then he'd get back in touch like nothing had happened and never really told me what he'd been up to, just that he was busy."
Deborah brushed her fears aside but back at home received a rushed phone call from David.
She explains: "He told me his mum was sick and he needed money to visit her in Sierra Leone.
"I hadn't met any of his family apart from Issa, and of course I didn't want to keep him away from his mother in her hour of need, so I sent him some extra cash straight away."
David went quiet for a few weeks, but Deborah assumed he was busy caring for his mum and didn't want to disturb him. When she finally heard from him on New Year's Eve 2013 she was excited – but he was only after more cash.
She says: "He said his mum was ill again and he needed to go back. He asked for more money then told me I'd always be in his heart and he'd always love me.
"As I realised what he was telling me my heart broke in two. I said goodbye through tears and the line went dead. I knew I'd never hear from him again.
"My family had warned me David was no good but I couldn't see it. I still loved him and was devastated."
Desperate for answers, Deborah called him over the next few days but there was no answer and he didn't respond to her texts. Days later, she received a message.
"He said his family said the age gap was too big and he was sorry. That was it. Again, I tried calling and texting but got nowhere."
Remembering how open Issa had been, Deborah called him and was shocked when he revealed their mother wasn't ill and David had broken all ties with the family and disappeared.
A few days later the mystery was solved when a woman in Britain named Michelle called Deborah on her mobile.
She adds: "She told me she was David's wife and I was knocked for six. They'd wed two years before I'd met him so I'd been his other woman the whole time.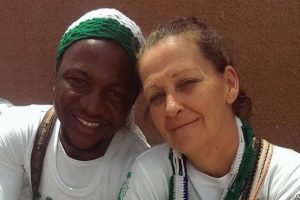 "Whenever I was in the UK, he'd been with her. She even sent me photos of them together to prove her story. I felt so foolish."
Reeling, Deborah finally accepted it was time to cancel her next visit. But when she mentioned it to Issa, he persuaded her to make the trip and stay with him instead.
She says: "I thought he was the perfect person to help me through the break-up as he knew David so well.
"And it was a good way to say goodbye to the place I'd fallen in love with."
As she poured out her heart to Issa, he confessed he'd known about his brother's wife but had been unsure how to tell Deborah the truth.
She adds: "I knew David was the only one I should be angry with and as we spent time chatting and going for walks I realised I was ­developing feelings for him."
One evening Issa leant towards Deborah as they chatted and kissed her – marking the beginning of their relationship.
She says: "At first I felt guilty for falling for David's brother. But as time went on I accepted David had been using me and what Issa and I had was real."
Back home, Deborah's family, including her two daughters, were sceptical.
She says: "They didn't trust him. But as time went on they realised he wasn't after my money and accepted him."
After two happy years, Issa proposed on the beach during one of Deborah's visits and asked for her hand in marriage.
She says: "I was so happy. I'd thought David was my 'one' when all along it was Issa."
The couple set a date for March this year, but after five visits to the Gambia the 25-year age gap began to show.
Deborah explains: "Issa was two years younger than my youngest daughter and seemed very immature so I finally realised it wasn't going to work.
"I broke the news on the phone and Issa told me he was ­devastated because I was his first love.
"My heart felt Issa was right, but in my head I knew it wasn't so I felt better once I'd finished it. Now I'm back home and wiser."
But while Deborah may have been ­heartbroken by her two failed romances, it doesn't seem to have put her off.
"Issa and David haven't scared me off toyboys" she says.
"Who knows, maybe one day I'll find the right one for me?"
Courtesy of Daily Mirror